LAPD releases video showing officer kicking, punching restrained man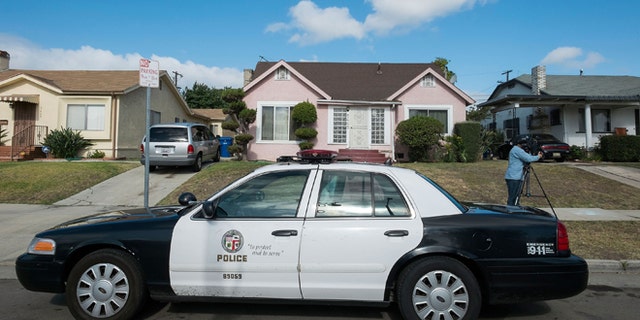 NEWYou can now listen to Fox News articles!
The Los Angeles Police Department has strongly condemned the action of one of their own.
Officer Richard Garcia was one of several policemen who were involved in the 2014 arrest of a then-22-year-old man who was stopped because he matched the description of a robbery suspect.
Garcia was denounced by his superiors after they saw videotapes of the arrest showing the police officer kicking Clinton Alford, who was on the ground at that point, near the head, pressing his knee on his back, and again hitting him on the head with his elbow and hand.
Garcia stopped using force on Alford – who was restrained and facing down on the ground, and did not resist arrest – when a group of police officers then picked him up and dragged him to a patrol car.
The department refused to release the three-minute video, which was referred to numerous times by police superiors when condemning Garcia, and was used as evidence in the case over criminal charges that police officer faced. The department finally released the video in response to the Los Angeles Times, which took its request for the recording to court.
The video was taken from a security camera at a factory located near Alford's arrest.
Police officials have told the Los Angeles Times that the behavior of Garcia during the arrest was "horrific" and that he acted like a "football player kicking a field goal."
Garcia earlier this year entered into a plea agreement with prosecutors in which he pleaded no contest to a felony charge that enables him to avoid jail as long as he completes community services and donates $500 by next year.
Garcia had faced up to three years in jail before the agreement.
The plea agreement has been criticized as too lenient, particularly by African-American leaders who said it was an example of how law enforcement overzealousness involving blacks is treated lightly.
Like us on Facebook