Police: 14-year-old shot by LA cop in gang-infested neighborhood opened fire first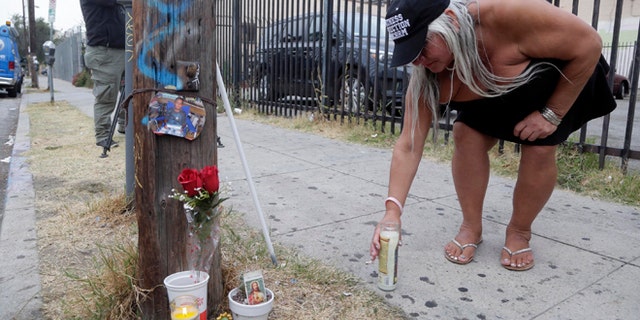 NEWYou can now listen to Fox News articles!
Authorities in Los Angeles say that police shot a 14-year-old Latino boy who opened fire on them after cops responded to a graffiti tagging report.
The shooting occurred Tuesday in Boyle Heights, a rapidly gentrifying neighborhood east of downtown Los Angeles that police say is still home to nearly three dozen gangs.
Deputy Chief Robert Arcos said the slain teenager was Jesse Romero, without clarifying if he or a second detained youth were gang members.
"The tragedy of this event cannot be understated," Arcos said. "This event underscores the need for youth programs and outreach which provide opportunities and alternatives for the youth of our communities."
Arcos said the teen was shot after two officers responded to a report of tagging and two suspects ran from the scene.
One was quickly detained, and the other ran a couple of blocks before firing at officers chasing him, police said, citing an unnamed witness.
"The witness saw the subject shoot a handgun in the direction of the pursuing officers," Arcos said, adding the officers heard the gunfire. Neither officer was hit.
Moments later, an officer rounding a corner shot the 14-year-old, who died at the scene.
At a news conference Wednesday, police displayed a photo of a loaded, long-barreled revolver they say the youth was carrying when he was shot.
Both officers were wearing body cameras. Arcos said the video was being processed and would be reviewed by investigators. It was not immediately released.
"There is still a lot of work to be done," he said of the investigation.
The officers, who were not identified, were assigned to desk duty.
Based on reporting by The Associated Press.