Jewish-Arab Relations in Israel Hit Boiling Point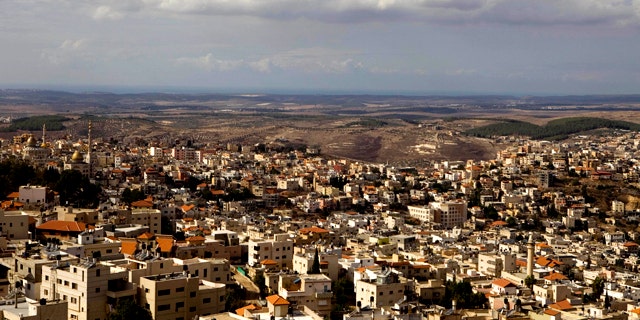 UMM EL-FAHM, Israel – Relations between Israel's Jewish majority and its Arab minority have never been warm, but they appear to have hit a new low that has activists on both sides worried the troubled relationship is beyond repair.
In the past month alone, Israeli lawmakers have introduced a series of bills that aim to marginalize Arabs. Rabbis in a northern town have urged followers not to rent homes to Arabs. Extremist Jews marched through this town and set off a violent riot. And a prominent Arab activist has admitted in a plea bargain to spying for the Lebanese guerrilla group Hezbollah.
These repeated run-ins have threatened to turn what has long been an atmosphere of distrust into open hostilities as Jews increasingly question the loyalty of their Arab neighbors while jittery Arab residents fear they are being unfairly characterized as a threat from within.
"The Arab community is terrified. They see the legislation, they feel the atmosphere. They see the discourse and they feel insecure. They feel like they need to protect themselves," said Jafar Farah, head of "Musawa," an organization promoting equality for Arab residents. "And some of these people think they should fight back."
Arabs form about one-fifth of Israel's population of some 7.4 million. In contrast to their Palestinian brethren in the West Bank and Gaza Strip, Israeli Arabs hold citizenship rights that give them access to Israeli social services and other benefits. For the most part, however, they identify with Palestinians. They also tend to be poorer and less educated than their Jewish compatriots and often suffer outright discrimination.
While relations have always been cool, the situation took a major turn for the worse a decade ago after the outbreak of the second Palestinian uprising. At the time, thousands of Israeli Arabs rioted for days in solidarity with the Palestinians, and Israeli police killed 13 Arab citizens while trying to quell the unrest.
For Arabs, the 2000 unrest became a symbol of their grievances. For many Jews, the events instilled doubts that the Arab community could be loyal to Israel and raised fears the Arabs could actively try to help the country's enemies. Those fears have been compounded by events since.
Israel's ultranationalist foreign minister, Avigdor Lieberman, led his Yisrael Beitenu party to large gains in last year's parliamentary elections by questioning the loyalty of Israel's Arabs.
Last month, Lieberman managed to win Cabinet approval for his proposal to force non-Jewish immigrants to swear a loyalty oath to a "Jewish and democratic" state. The measure, which won support from Prime Minister Benjamin Netanyahu, was widely seen as a swipe against Arabs since it wouldn't apply to Jewish immigrants.
Another coalition partner proposed a bill that would allow small communities to exclude potential residents, bringing charges of racism from Israeli Arabs.
The deputy mayor of the northern Israeli town of Carmiel, Oren Milstein, meanwhile, urged residents not to rent or sell their homes to Arabs, according to local media reports. The politician's office did not return messages seeking comment.
In the nearby town of Safed, prominent rabbi Shmuel Eliyahu has warned Jews from doing the same. And last week, several dozen ultranationalist Jews marched through the hilly Arab town of Umm el-Fahm, chanting "death to terrorists," touching off clashes between rock-hurling residents and police firing tear gas.
"I'm scared for the future, and I'm scared for my children," said Saeb, a 37-year-old social worker who declined to give his last name, fearing he would get in trouble with his employer.
Many Jews, however, have real concerns that Israeli Arabs pose a potential threat, fueled by a series of high-profile cases involving Arab politicians.
Last week, Amir Makhoul, a leading community activist, pleaded guilty to handing sensitive information to Hezbollah, the Lebanese guerrilla group that fought an intense monthlong war against Israel in 2006. He faces up to 10 years in prison.
In May, lawmaker Hanin Zoabi triggered harsh Jewish criticism by joining a Turkish flotilla trying to break Israel's blockade of Hamas-ruled Gaza. Zoabi, an outspoken critic of Israel, was nearly attacked on the floor of parliament and called a traitor after the incident.
Another lawmaker, Azmi Bishara, fled the country three years ago to avoid facing similar espionage charges. Living in exile, he has since become a frequent participant in Arabic TV panels, heaping scorn and criticism on Israel and its policies toward Palestinians.
Ordinary Israeli-Arabs also have moved toward more extreme groups, like the radical northern Islamic Movement, which has close ideological ties to the militant group Hamas. It counts "tens of thousands" of followers, said its acting leader, Sheik Kamal Khatib.
Others have become fervent supporters of Bishara's and Zoabi's Balad Party, which emphasizes Palestinian identity. Many party members and supporters want Israel to be dissolved and ultimately merged with the Palestinian territories.
"We have never been Israeli, and we won't be. We are Palestinians," said actor Hasan Taha, 27.
Such views have fueled Jewish anxiety, which in turn has led to support for hard-line politicians like Lieberman, said Amnon Beeri-Sulitzeanu, co-director of the Abraham Fund, a Jewish-Arab organization seeks to promote coexistence.
Beeri-Sulitzeanu said although violence is down from 10 years ago, the situation is far more dangerous because the push to isolate the community was being led by politicians, elected community officials and religious leaders -- not by rabble rousers.
"What we are seeing is unprecedented," Beeri-Sulitzeanu said, adding there is "racism and alienation and a very coordinated attempt to marginalize and push the Arab community to the corner."