Israel's Peres honours Lithuanian Jews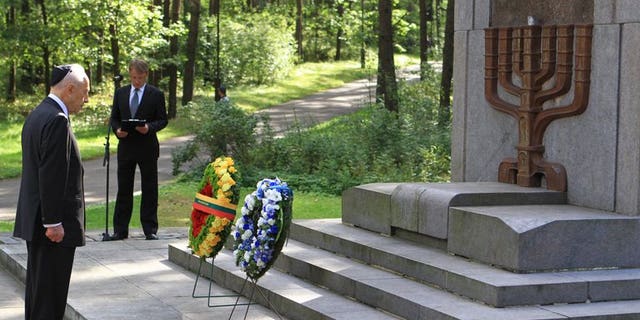 PANERIAI, Lithuania (AFP) – Israeli President Shimon Peres on Thursday honoured thousands of Lithuanian Jews slaughtered in the Holocaust, during a visit to a memorial site close to his birthplace.
With his Lithuanian counterpart, Peres laid wreaths at the memorial located in the outskirts of the Baltic state's capital Vilnius in tribute to the 70,000 Jews killed there during World War II.
"Vilnius was considered the Jerusalem of Lithuania, where hopeful and vibrant Jewish communities built their own life by the hospitality of the Lithuanian people," Peres said at the ceremony in the Paneriai forest.
"And suddenly, a third of Lithuania's Jewish people were slaughtered in these fields. Their bodies were tortured and burned at the sound of a short-range burst of fire," said Peres on the eve of his 90th birthday.
Peres -- on a two-day visit to Lithuania, which currently holds the rotating presidency of the European Union -- was born in the town of Vishnyeva just 100 kilometres (60 miles) from Vilnius in what was then Poland and is now Belarus.
His family settled in Palestine in the 1930s.
Lithuania was once home to more than 200,000 Jews, but over 90 percent died during the country's 1941-1944 German occupation at the hands of the Nazis and local collaborators.
Peres praised Lithuanian efforts to remember and "educate its youth about this shameful stain, so as (to) never allow it to happen again".
Lithuanian President Dalia Grybauskaite for her part said the Holocaust must not be forgotten.
"It was also the tragedy of Lithuania, because our brothers and sisters were murdered. We must speak out and talk about it."
Today there are around 5,000 Jews in Lithuania. The community leader hailed Peres as one of the most prominent Litvaks -- Jews with roots in the former Grand Duchy of Lithuania.
"By visiting here on the eve of his jubilee he showed the greatest respect to Lithuanian Jews," leader Faina Kukliansky told AFP.
Peres was named an honorary citizen of Vilnius last month.