Israeli officials believe Tel Aviv gunman escaped city amid manhunt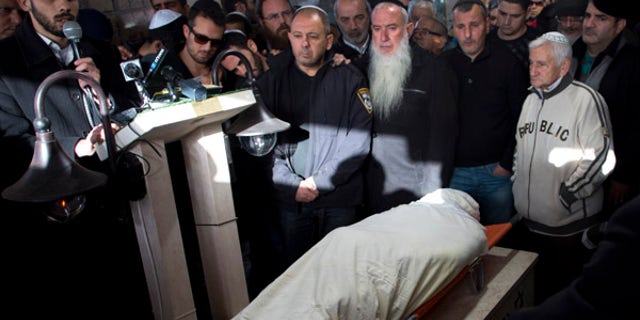 NEWYou can now listen to Fox News articles!
An Israeli security official said Monday that there is "no reason" to think that the gunman from a deadly attack in Tel Aviv on Friday is still hiding out in the city as many concerned parents were nervous about sending their children to school.
The statements came as authorities arrested the brother the suspect, Israeli Arab Nashat Milhem, according to the Jerusalem Post.
"I can understand the concern," Public Security Minister Gilad Erdan told Israel Radio on Monday. "But there is now unprecedented security in Tel Aviv and the public needs to go about its daily routine."
The gunman opened fire with a semiautomatic rifle Friday on a bar in Tel Aviv, killing two people.
As the manhunt for Milhem entered its fourth day Monday, Erdan told Israel Radio that "there's no reason to think that the gunman is still in Tel Aviv and not in some other part of the country."
Jittery parents kept their children home from school a day earlier. Officials reported only around 50 percent of students in the northern part of the city went to school Sunday.
Erdan also rejected criticism of new police commissioner Roni Alsheich, whom some have blamed for not informing the media and public about the search efforts. Details of the investigation are being held under a court gag order, Reuters reports.
"This is ridiculous criticism made by despicable people, and I hope that they will not continue to serve in the police force," Erdan said, according to the Jerusalem Post.
Police believe Milhem, a 29-year-old from the village of Arara in northern Israel, is still armed and may be planning another attack, Haaretz reported.
Authorities and Shin Bet investigators told the newspaper that Milhem wasn't planning to return alive from the shootings and police are investigating the possibility that he may have had an accomplice.
Israeli Police Spokesman Micky Rosenfeld said officers set up roadblocks to prevent Milhem from escaping to the West Bank.
Milhem had been working at a grocery store in Tel Aviv before the attack. Shop owners who knew Milhem disputed claims from his family that he was suffering from mental issues, Haaretz reports.
Sami Milhem, a relative of the suspect and a lawyer who represented him in a case in which he was jailed for assaulting an Israeli soldier in 2007, told Israeli Channel 2 that Nashat Melhem was mentally unstable.