Iraqi forces retake key oil refinery from ISIS in wide-scale operation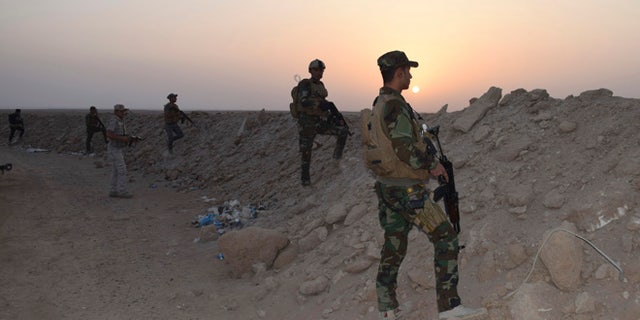 Iraqi government troops backed by Shiite militia fighters have driven out Islamic State group militants from a key oil refinery north of Baghdad in a wide-scale military operation, authorities said Friday.
The Joint Military Command said in a statement the forces retook Beiji refinery and nearby Siniya town, but did not provide additional details on the operation at the sprawling refinery, Iraq's largest which has been idle since June last year. There was also no word on the fate of the nearby town of Beiji.
Beiji, about 155 miles north of Baghdad, fell to IS during its blitz across northern Iraq a year ago, but the refinery facility remained contested. The town is strategically significant as it lies on the road to IS-held Mosul, Iraq's second largest city.
The IS group has declared an Islamic caliphate in the territories it controls in Syria and Iraq, and has used oil smuggling to finance much of its operations.
The military operation - dubbed Labeik ya Rasool Allah, or "At your command, messenger of God,"- was launched on Monday as the second phase of a large-scale operation to drive Islamic State militants out of Salahuddin province in central Iraq. The government troops were backed by paramilitary forces, made up mainly of Shiite militias.
The leader of the Iranian-backed paramilitary group Asaib Ahl al-Haq, Sheik Qais al-Khazali, was filmed in a military uniform accompanying troops inside the refinery in a video released by the group's TV channel, al-Ahad. The footage showed the troops as walking through the wreckage of the refinery complex as black smoke billowed from different areas. The troops waved Iraqi and Shiite militia flags.
In April, Iraqi troops backed by U.S. airstrikes and Shiite and Sunni militias recaptured Salahuddin's provincial capital, Tikrit, but their efforts have since stalled. Iraqi and U.S. officials have said the extreme summer heat caused setbacks.
Elsewhere in Iraq, violence on Friday claimed the lives of at least eight people.
The deadliest attack took place in the town of Tarmiyah, 30 miles north of Baghdad, when a bomb ripped through an outdoor market, killing four civilians and wounding 12 others, a police officer said.
In the town of Youssifiyah, 12 miles south of Baghdad, another bomb explosion in a commercial area killed three civilians and wounded nine others, another police officer said. And a soldier was killed and three others wounded when gunmen attacked their checkpoint in Tarmiyah, police added.
Two medical officials confirmed causality figures. All officials spoke on condition of anonymity as they were not authorized to release the information.