Iranian armed forces spokesperson: 'It's time to teach Americans new lessons'
An Iranian armed forces spokesperson warned it may be time to "teach Americans new lessons" if the Trump administration labeled Iran's Islamic Revolutionary Guard Corps as a terrorist organization.
Masoud Jazayeri, an IRGC commander and spokesperson, issued the threat, Reuters reported.
"It seems the Trump administration understands only swear words, and needs some shocks to understand the new meaning of power in the world," Jazayeri said, according to ISNA. "The Americans have driven the world crazy by their behavior. It is time to teach them a new lesson."
IRANIAN NUCLEAR CHIEF WARNS US: DON'T UNDERMINE NUCLEAR DEAL
Jasayeri never specified what that "new lesson" might be.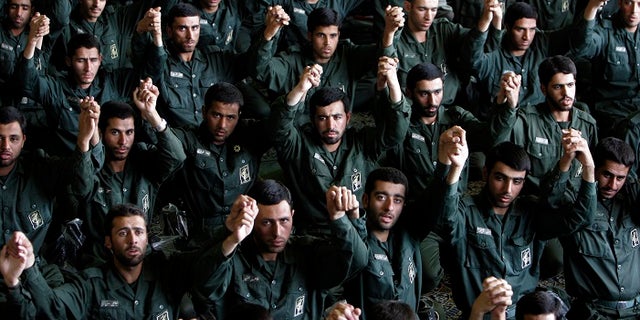 Ali Akbar Velayati, the adviser to Iran's Supreme Leader Ayatollah Ali Khamenei, said if the U.S. labeled the IRGC a terrorist organization than "all options were on the table," ISNA reported.
"The Americans are too small to be able to harm the Revolutionary Guards," Velayati said. "We have all options on the table. Whatever they do, we will take reciprocal measures."
Trump has also threatened to pull the U.S. out of the Iran nuclear deal by not re-certifying the Islamic Republic's compliance with the Obama administration-era agreement.
IRAN ATTEMPTED TO BUY NUCLEAR ENERGY ILLEGALLY 32 TIMES, GERMAN AGENCY SAYS
On Tuesday, it was reported the Iranian government told its citizens it would "not let the decisions of the mentally unstable Trump affect the market," Reuters reported.
"Trump might say some things by the end of the week, but this should not create chaos in the market. Iran is a stable country, and nothing will happen," said Mohammad Baqer Nobakht, a government spokesperson.
The Associated Press contributed to this report.