Iran says ISIS strike serves as warning to US, Saudi Arabia
NEWYou can now listen to Fox News articles!
Iran said its ballistic missile strike targeting ISIS in Syria also served as a warning to archrival Saudi Arabia and the United States, with a former Revolutionary Guard chief writing on Twitter that "The bigger slap is yet to come."
The launch, which hit Syria's eastern city of Deir el-Zour on Sunday night, appeared to be Iran's first missile attack abroad in over 15 years and its first in the Syrian civil war, in which it has provided crucial support to embattled President Bashar Assad.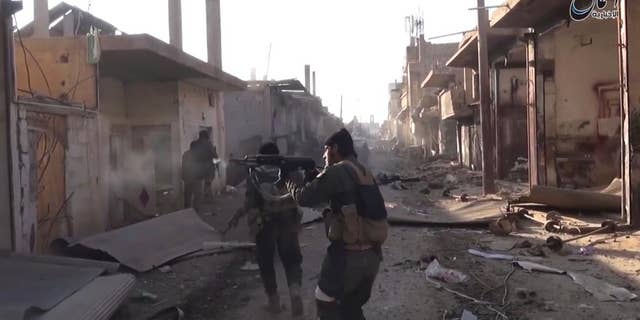 It comes amid the worsening of a long-running feud between Shiite powerhouse Iran and Saudi Arabia, which supports Syrian rebels and has led recent efforts to isolate the Gulf nation of Qatar.
Separately, Fox News has learned more about the Iranian missiles fired into eastern Syria yesterday.
U.S. RESPONDS TO RUSSIAN THREAT AFTER SHOOT-DOWN OF SYRIAN JET
Two U.S. officials said Iran fired six ballistic missiles during the attack – one Fatah-110 and five IRSS-1 "Zulfiqar" missiles.
The Iranian missiles hit near a pair of cities in eastern Syria where officials said top ISIS leadership and its "bureaucracy" have fled to since leaving the terror group's so-called capital of Raqqa months ago.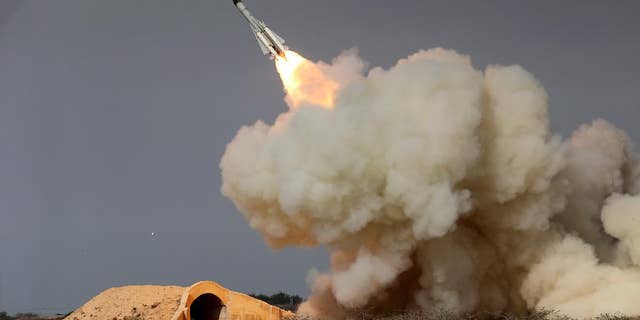 The Iranian missiles were launched from Kermanshah in western Iran near the border with Iraq. The missiles flew over Iraq before striking eastern Syria.
SAILORS PULLED FROM USS FITZGERALD ARE IDENTIFIED
Iraqi lawmaker Abdul-Bari Zebari said his country agreed to the missile overflight after coordination with Iran, Russia and Syria.
The Guard described the missile strike as revenge for attacks on Tehran earlier this month that killed at least 18 people and wounded more than 50, the first such ISIS assault in the country.
But the missiles sent a message to more than just the extremists in Iraq and Syria, Gen. Ramazan Sharif of the Guard told state television in a telephone interview.
"The Saudis and Americans are especially receivers of this message," he said. "Obviously and clearly, some reactionary countries of the region, especially Saudi Arabia, had announced that they are trying to bring insecurity into Iran."
Fox News' Lucas Tomlinson and The Associated Press contributed to this report.