Iran cracks down on models posing without headscarves online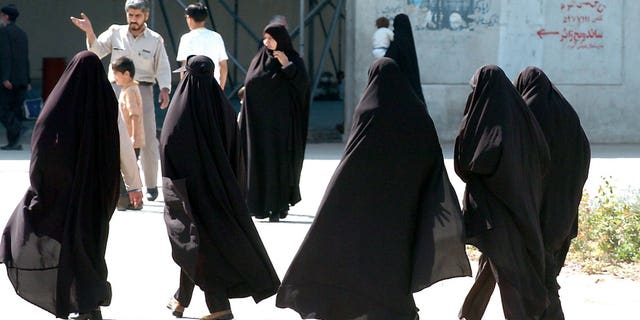 NEWYou can now listen to Fox News articles!
Iranian police have arrested eight people in a new crackdown targeting "un-Islamic acts" online such as female models posting images of themselves without their hair covered, state media reported Monday, part of a larger cultural struggle in the Islamic Republic over the country's future.
The arrests follow the detentions of artists, poets, journalists and activists as moderate President Hassan Rouhani's administration secured a landmark nuclear deal with world powers.
The arrests and harsh sentences handed down signal that hard-liners in the police and judiciary, who were unable to stop the accord and fear looser social norms will weaken the Islamic Republic, still hold significant power in the country.
State television said this latest operation, called Spider II, particularly targeted users of the Instagram picture-sharing application. Instagram, owned by Facebook, did not immediately respond to a request for comment.
The television report included footage of model Elham Arab, known for her portraits in wedding dresses, speaking before Tehran prosecutor Abbas Jafari Dowlatabadi in a conference room, her blonde hair hidden under a black chador.
"All people love beauty and fame," Arab said. "They would like to be seen, but it is important to know what price they will pay to be seen."
Arab could not be immediately reached for comment. It wasn't immediately known if she had a lawyer.
The TV report did not say what charges she faced, nor did it identify the other seven people arrested. It said police identified some 170 people in the operation through social media activity as being involved in modeling, including 58 models, 59 photographers and makeup artists.
It said those targeted saw their businesses shut down, as well as their pages on Instagram and Facebook removed. Arab's Instagram account could not be accessed Monday.
"We must fight with enemy's actions in this area," Dowlatabadi was quoted by the state-owned IRAN newspaper as saying. "Of course our actions in this area will continue."
The previous Spider operation targeted "pornography and insulting Islamic sanctity," officials have said.
In recent years, Iranian women -- especially in the capital, Tehran -- have worn the mandatory scarf loosely on their head, drawing the ire of conservatives in the Islamic Republic. Tehran police chief Gen. Hossein Sajedinia in April announced his department had deployed 7,000 male and female officers for a new plainclothes division -- the largest such undercover assignment in memory -- to enforce the government-mandated Islamic dress code.
The model crackdown is just the latest move by authorities to control online expression in Iran. Nearly 40 percent of Iran's 80 million people can access the Internet, though the U.S.-based watchdog Freedom House describes web access as "not free" in the Islamic Republic due to censorship and filtering.
In May 2014, authorities arrested a group of young Iranian men and women for an online video of them dancing to Pharrell Williams' song "Happy." While the arrests drew widespread criticism, including from the musician himself, those involved each received suspended sentences of six months' imprisonment and 91 lashes.
Meanwhile, journalists, filmmakers, writers and activists also have been detained, sentenced or imprisoned.
On Monday, Iran's semi-official ISNA news agency reported authorities arrested Mahdi Boutorabi, the manager of an Iranian blogging service called persianblog.ir. The ISNA report did not elaborate on the case of Boutorabi, who previously was arrested following Iran's disputed 2009 presidential election.