India's Gandhi tackles hunger with cheap food scheme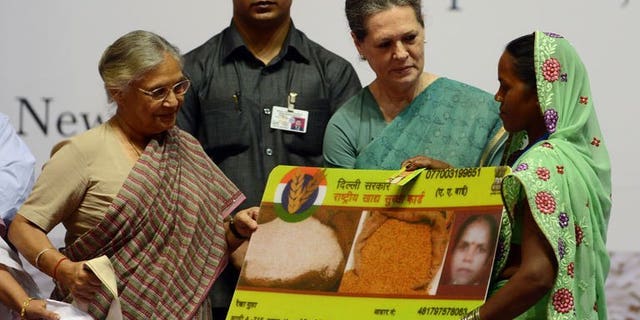 NEW DELHI (AFP) – India's ruling Congress party chief Sonia Gandhi Tuesday launched a landmark public food scheme for hundreds of millions of people, declaring it would banish hunger and be free of corruption.
Gandhi told hundreds of cheering supporters that 800 million Indians would benefit from the scheme, aimed at fighting endemic malnutrition, but also considered a vote-winner for Congress ahead of next year's elections.
"We have to struggle much more as there are millions of our brothers and sisters who go hungry and hence it is our responsibility to take care of them," she said at an indoor stadium in New Delhi.
"And that is why we forged a law like the Food Security Bill so that hunger can be banished."
The multi-million-dollar programme, the world's largest, offers subsidised grain to nearly 70 percent of the population.
Indians classed as below the poverty line already receive subsidised kerosene, cooking gas, fertiliser and wheat through what is the world's biggest public distribution system.
But the chaotic welfare programmes are notoriously inefficient and riddled with corruption.
"We also know there are many shortcomings in the PDS (public distribution system) and this law will bring in reforms and ensure there is no corruption in the system," Gandhi said.
The government says the programme will add 230 billion rupees ($3.6 billion) annually to the country's existing 900-billion-rupee food subsidy bill.
It will offer five kilograms (11 pounds) of grain per person per month for as little as one rupee per kg.
Parliament on Tuesday delayed debate on passing the long-delayed bill, which was passed by the government using an emergency order in July but must eventually be approved by the legislature.
Gandhi has pushed the flagship programme to honour a 2009 election pledge, despite concern about its impact on public finances.
Hundreds of Delhi's poor, mainly women, were bused to the stadium to vow support for the new scheme.
Clutching their new ration cards and wearing their best saris, some said they now hoped they could make end's meet at home.
"I think this will help us. Food will be cheaper now and I can feed my family," said one woman, who survives with her three children on her husband's wages of about 200 rupees ($3) a day.
Delhi and two other Congress-ruled states launched the programme on August 20 -- the anniversary of the birth of Gandhi's late husband, former premier Rajiv Gandhi, who was slain by a suicide bomber in 1991.
The Congress-led national government, under intense pressure over a string of corruption scandals and a faltering economy, hopes the scheme will boost its chances of winning a third term at next year's elections.
Despite two decades of strong economic growth, India still struggles to feed its population adequately. A major survey last year showed 42 percent of children under five were underweight.
Critics of the food programme say that India can ill afford such a costly subsidy burden at a time of slowing economic growth.
Supporters of the main opposition Bharatiya Janata Party (BJP) protested near the stadium against the food programme and police used water cannon to disperse them.
The BJP has called the food scheme a "political gimmick" to win votes.