Holloway Suspect's Peru Detention Extended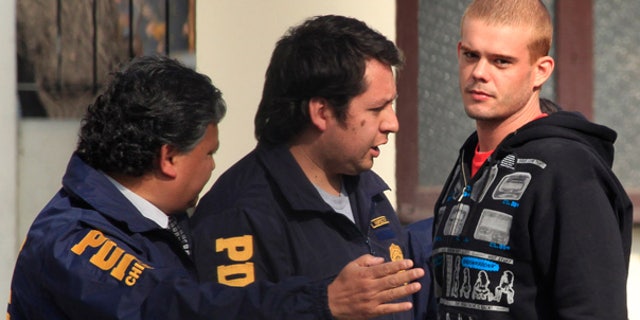 LIMA, Peru — Joran van der Sloot will spend all week at criminal police headquarters being questioned in the death of a 21-year-old Lima woman and has asked to be able to hire his own lawyer, authorities said Sunday.
The Dutchman, who is also the prime suspect in U.S. teen Natalee Holloway's 2005 disappearance in Aruba, is being held in a seventh-floor cell with a bunk bed and blanket and gets three hot meals a day, said Maj. Jose Gamboa, spokesman for the Peruvian national police.
Van der Sloot is suspected in the May 30 killing — five years to the day after Holloway's disappearance — of Stephany Flores, a business student who police say he met playing poker at a casino.
Police released video Saturday taken by security cameras at the hotel where van der Sloot had been staying since arriving from Colombia on May 14. It shows the two entering van der Sloot's room together and the Dutchman leaving alone four hours later.
The woman's battered body was found on the room's floor more than two days later, her neck broken.
"The only possessions of my daughter they found were her empty wallet and her cell phone," her father, circus empresario Ricardo Flores, said in TV interview Sunday night. "There wasn't a peso in her wallet."
Van der Sloot crossed into Chile on Monday, where he was arrested three days later.
In video taken of the husky 22-year-old Dutchman that was broadcast Sunday by a TV channel, Peruvian police search van der Sloot's belongings in his presence.
They pull out of his backpack a laptop, a business-card holder and 15 bills in foreign currency. Van der Sloot tells police the money includes Thai, Cambodian and Bolivian currency. He is asked for credit cards and documents and appears to say — his Spanish is very rudimentary — that they are in a hotel room back in Chile.
Peru's chief homicide investigator, Col. Miguel Canlla, would neither confirm nor deny a Sunday report in the Lima newspaper El Comercio that van der Sloot told his Peruvian questioners he was innocent of the Flores killing.
"I don't know where that information came from," Canlla told The Associated Press. "We are still in the investigative stage."
Chilean police said earlier that van der Sloot declared himself innocent in the Lima slaying but acknowledged having met Flores.
Van der Sloot was represented by a state-appointed lawyer during Saturday's questioning.
Until he hires his own counsel, "the guys prosecuting him will decide which attorney he's going to get," van der Sloot's U.S. attorney, Joseph Tacopina, told the AP,
Tacopina said the suspect's family "is trying to find competent counsel."
Dutch Embassy chief consular officer Angela Lowe said her government was providing van der Sloot with "regular consular assistance, which means an occasional consular visit, and we will make sure he is being treated decently, just like any other inmate."
She said Peruvian authorities have assured the Dutch government they are treating him well. "They are taking this case very seriously," she added. "The world is watching."
Van der Sloot is one of 117 Dutch citizens currently in Peruvian jails or prisons, most of them on drug-related charges, Lowe said.
The suspect spoke to his mother by telephone for the first time Saturday, Lowe said, adding that she did not know whether the mother plans to travel to Peru.
Van der Sloot's father, a former judge and attorney on the Dutch Caribbean island of Aruba, died in February. The suspect has two brothers.
After a a 17-hour journey up the Pan-American Highway from Chile in a police caravan Saturday, the young Dutchman was paraded, sheathed in bulletproof vest and handcuffed, before reporters at criminal police headquarters in Lima.
He was then submitted to an initial interrogation. A judge subsequently granted prosecutors' request to extend van der Sloot's preliminary detention order seven more days, said Gamboa, the national police spokesman.
If tried and convicted of murder, van der Sloot faces a potential prison term of 35 years.
He remains, meanwhile, the prime suspect in the disappearance in Aruba of Holloway, an Alabama teen who hasn't been seen since May 30, 2005. He was arrested and released in that case, and faces no charges.
Van der Sloot was charged Thursday in the United States with trying to extort $250,000 from Holloway's family in exchange for disclosing the location of her body and describing how she died.
U.S. prosecutors say $15,000 was transferred to a Dutch bank account in his name. In the Netherlands on Friday, prosecutors raided two homes in the case, seizing computers, cell phones and data-storage devices.
Peruvian President Alan Garcia told reporters Friday that van der Sloot would have to be tried in Flores' death before any extradition request could be considered.
Holloway, 18, was celebrating her high school graduation on Aruba when she disappeared. Van der Sloot told investigators he left her on a beach, drunk. That's the last anyone saw her.
Two years ago, a Dutch television crime reporter captured hidden-camera footage of van der Sloot saying that after Holloway collapsed on the beach he asked a friend to dump her body in the sea.
The same journalist, Peter de Vries, reported later in 2008 that van der Sloot was recruiting Thai women in Bangkok for sex work in the Netherlands.