Gunmen attack Mogadishu court; 16 reportedly killed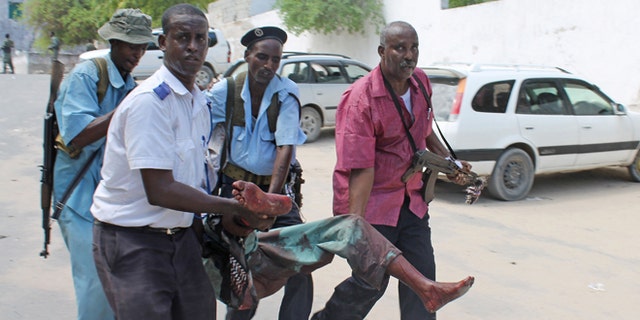 MOGADISHU, Somalia – Nine al-Shabab Islamic extremists, most wearing suicide vests, stormed Somalia's main court complex on Sunday while the Supreme Court was in session, firing a barrage of bullets during a running gun battle with security forces that lasted two hours, officials said.
A preliminary death toll stood at 16, including all nine attackers.
The assault was the most serious in Mogadishu since al-Shabab militants were forced out of the capital in August 2011. Al-Shabab controls far less territory today than in years past, and its influence appears to be on the decline, but Sunday's attack proved the extremists are still capable of pulling off well-planned and audacious assaults.
The attack on the Supreme Court complex began at around 12:30 p.m., sparking running battles with police and army forces. Two bomb blasts were heard and gunmen were seen on the roof of a court building firing shots, an Associated Press reporter at the scene said. Police officer Hassan Abdulahi said he saw five dead bodies lying at the entrance to the court.
The militants took an unknown number of hostages during the siege. Many other government workers and civilians in the court complex -- a confusing labyrinth of buildings and rooms -- hid while fearing for their lives.
Western officials knew militants had been planning something major. The British Foreign Office on Friday released a travel warning for Somalia that warned of a high threat of terrorism. "We continue to believe that terrorists are in the final stages of planning attacks in Mogadishu," it said.
The complex and sustained nature of the assault on the court system suggested militants hoped to inflict severe casualties. Later, a suicide car bomber rammed a vehicle carrying Turkish citizens.
On a Twitter feed believed to belong to the militants, al-Shabab appeared to take credit for the attack. A posting said five militants from the "Martyrdom Brigade" took part in the "daring" attack.
Interior Minister Abdikarim Hussein Guled said nine militants attacked the court complex, and that six of them detonated suicide vests. Three others were shot and killed during the assault, he said. Guled said he couldn't immediately provide an overall death toll that included government officials and civilians.
Prime Minister Abdi Farah Shirdon said the "pointless and pathetic act" would have no effect on the government's commitment to progress. President Hassan Sheikh Mohamud said Somalia is moving forward but the enemy of Somalia and "of all mankind" is trying to prevent the country from prospering.
"I want the terrorist to know that our country, Somalia, is moving and will keep moving forward and will not be prevented to achieve the ultimate noble goal, a peaceful and stable Somalia, by a few desperate terrorists," Mohamud said.
Ugandan troops stationed in Mogadishu as part of the African Union force arrived at the scene and began taking up sniper positions on rooftops.
The Supreme Court was in session and the court's chief justice may have been the target of the assault, said a Western official who had been speaking to Somali officials. The official spoke on condition he wasn't identified because he wasn't authorized to release the information.
The gunmen took hostages in the complex's main courtroom and forced their way into other rooms in the complex, said another police officer, Abdinasir Nor.
The court complex is a confusing maze of buildings and rooms, allowing for plenty of places to hide but also for many places for gunmen to take hostages. The armed men forced their way inside the complex and immediately set off an explosion, said Yusuf Abdi, who was near the court when the attack happened.
About two hours after the assault began, survivors of the attack began coming out of the court complex. Some were crying and others held their heads in their hands.
"I never expected to make it out alive today," said Halima Geddi, who fled the court complex about two hours after the attack. She said she had taken cover behind an outer wall. "There is no peace. No one protects us. I came to see my boy who was supposed to be tried here."
At about 3 p.m. a suicide car bomber rammed his vehicle into a car carrying Turkish citizens to the airport, said Mohamed Anjeh, a police commander.
Mogadishu's main government center is heavily guarded with multiple security checks. However, the security at the court complex is not nearly as strong. The Ugandan troops who arrived on scene began pushing back on-lookers shortly after the attack began.
Most militant attacks in Mogadishu are blamed on fighters from al-Shabab, the Al Qaeda-linked Islamic extremist rebel group in Somalia. Al-Shabab ruled Mogadishu from roughly 2006 until August 2011, when African Union and Somali forces pushed them out of the city. Since then the al-Shabab extremists have launched suicide bombings on the capital city every few weeks.
Despite those intermittent attacks, Mogadishu is generally considered more peaceful today than most of the previous seven years.