Grenade attack kills two, wounds six in Karachi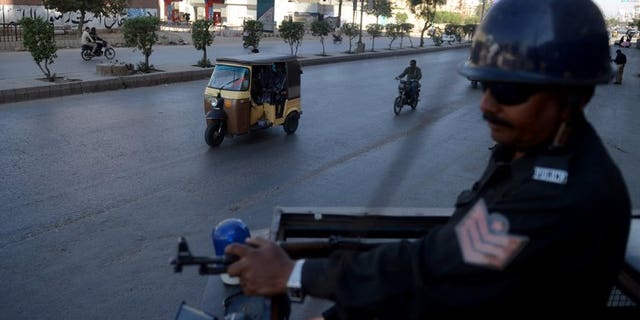 KARACHI, Sindh (AFP) – A hand grenade attack targeting the office of a political party late Sunday killed at least two people and wounded six others in Pakistan's port city of Karachi, police said.
The attack, which took place in the city's eastern impoverished neighbourhood of Buner town, came a day after two separate bomb explosions in Karachi killed four people and wounded seven others.
"It was a grenade attack that targeted office of Awami National Party (ANP), killing two people and wounding six others," senior local police official Tahir Naveed told AFP.
The ANP is the leading secular party in Pakistan's ethnic Pashtun northwest and has a large vote bank in Karachi.
Another senior police official, Najeeb Khan, confirmed the incident and casualties.
He said two attackers arrived on a motorbike, threw the grenade and fled.
On Saturday a bomb targeting a government official exploded in the Eesa Nagri area, killing a police officer and wounding seven people including the official.
A second bomb exploded minutes later, killing three people inside a house in the Patel Parra area of the city.
Karachi, a city of 18 million people, contributes 42 percent of Pakistan's GDP but is rife with murder and kidnappings and has been plagued for years by ethnic, sectarian and political violence.