Germanwings CEO says plane went into 8-minute descent before crashing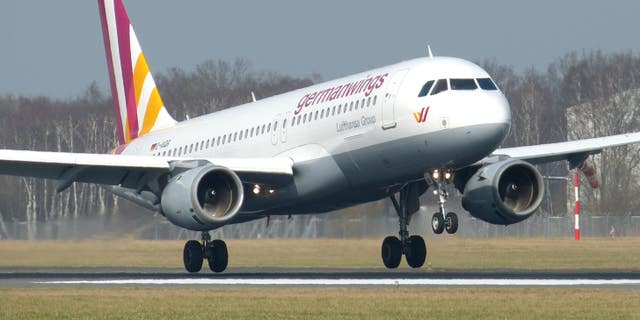 NEWYou can now listen to Fox News articles!
PARIS – The boss of Germanwings, the airline whose airbus crashed in the French Alps Tuesday, said the plane went into a long descent, likely killing all 150 people on board.
Germanwings CEO Thomas Winkelmann said the plane went into 8-minute descent shortly after it reached its cruising height.
The Airbus 320 crashed Tuesday morning during a flight from Barcelona to Duesseldorf, Germany.
French Prime Minister Manuel Valls said a helicopter has managed to land near the crash site, but found no survivors.
"The plane is disintegrated," Gilbert Sauvan, of the local council, told Les Echos newspaper. "The largest debris is the size of a car," he added.
Officials said they are still establishing whether there was a distress call.
Germanwings said the passenger manifest included two babies. According to El Pais, at least 45 passengers on board were Spanish nationals; 67 were German, the airline confirmed.
The Germanwings logo, normally maroon and yellow, was blacked out on its Twitter feed.
"It's a tragedy on our soil," he said, adding he would be speaking shortly with German Chancellor Angela Merkel.
Germanwings is a lower-cost unit of Lufthansa, Germany's biggest airline, that has been operating since 2002 — part of traditional national carriers' response from rising European budget carriers. It serves mainly European destinations.
The area where the plane went down is near a popular ski resort.
Based on reporting by the Associated Press.
Like us on Facebook