G-20 leaders reveal plan to boost world economy by $2T over next five years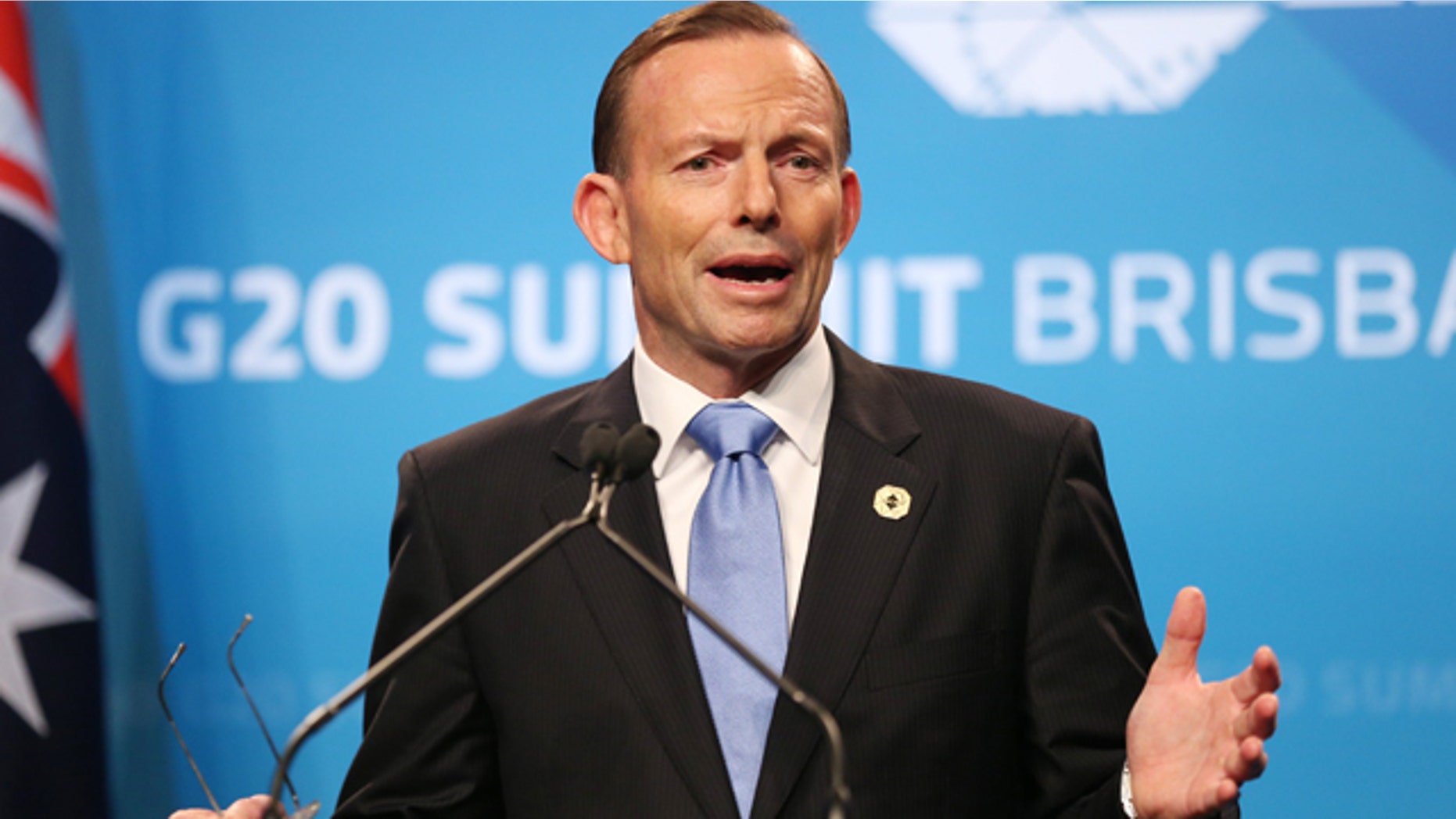 BRISBANE, Australia – Under pressure to jolt the stubbornly lethargic world economy back to life, leaders of G-20 nations on Sunday finalized a plan to boost global GDP by more than $2 trillion over five years by investing in infrastructure and increasing trade. The fanfare, however, was overshadowed by tensions between Russian president Vladimir Putin and Western leaders.
The communique from the summit of Group of 20 wealthy and emerging economies also revealed that the plan for jumpstarting growth includes the creation of a global infrastructure hub that would help match potential investors with projects. They also aim to reduce the gap between male and female participation in the workforce by 25 percent by 2025.
Speaking at the end of the summit in Brisbane, Australia's Prime Minister Tony Abbott said countries will hold each other to account by monitoring implementation of their commitments to boost growth.
The International Monetary Fund and OECD will also play a role in monitoring progress and estimating the economic benefits.
The G-20 communique says if the $2 trillion initiative is fully implemented, it would lift global GDP by 2.1 percent above expected levels by 2018 and create millions of jobs.
Abbott said countries have agreed more than 800 measures to spur the global economy, which the IMF says is facing a "new mediocre."
"The G-20 has delivered real, practical outcomes and, because of the efforts that the G-20 has made, this year, culminating in the last 48 hours, people right around the world are going to be better off," Abbott said.
But with international agencies downgrading their global growth forecasts in recent months, the G-20 -- which represents around 85 percent of the global economy -- faces an uphill struggle to implement its plan. Growth in China and Japan has weakened and Europe is teetering on the brink of a recession.
Abbott said leaders unanimously agreed that expanding global trade would directly benefit countries and people around the world.
"Trade is a key driver of growth, perhaps the key driver of growth and we're focused on domestic reforms to facilitate trade as well as the importance of a strong global trading system," Abbott said.
Despite Abbott's push to keep the summit focused on the economy, the meeting was overshadowed by tensions between Russian President Vladimir Putin and Western leaders over the escalating conflict between Russia and Ukraine.
Australia, Japan and the U.S. issued a statement condemning Russia for its actions in Ukraine, and Canadian Prime Minister Stephen Harper reacted to an offer of a handshake from Putin by responding, "I guess I'll shake your hand, but I have only one thing to say to you: You need to get out of Ukraine."
Australia lost 38 citizens and residents when a Malaysia Airlines plane was shot down over a part of eastern Ukraine controlled by Russian-backed separatists in July.
Since then, Abbott has been particularly strong-worded in his criticism of Russia, at one point saying he planned to "shirt front" -- or physically confront -- Putin over the disaster.
Asked at the conclusion of the summit about where things stood with the Russian leader, Abbott responded that they'd had a "very robust" discussion about the situation in Ukraine.
"I have some differences with the Russian government, obviously. I don't particularly approve -- in fact, I utterly deplore -- what seems to be happening in eastern Ukraine," Abbott said. "I demand that Russia fully cooperate with the investigation, the criminal investigation of the downing of MH17, one of the most terrible atrocities of recent times."