French fisherman survives Australian crocodile attack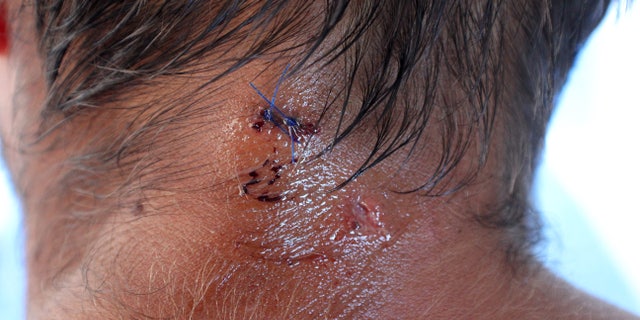 DARWIN, Australia – A French fisherman was bloodied but back on his fishing boat Monday, just hours after he escaped from the jaws of a young saltwater crocodile who attacked him while swimming along a remote stretch of Australia's northern coast.
Yoann Galeran, 29, said he was swimming from shore to a dinghy about 50 feet away on Sunday night when a crocodile between 6 feet 7 inches and 8 feet 2 inches clamped down on his head and neck and attempted to drown him in a maneuver known as a death roll.
"It went straight away to the top of my head and diving under the water he tried to do that spinning thing," Galeran said, referring to the drowning maneuver.
"It was going so fast -- everything happened in less than five seconds and then I fell free," he added. "I'm very lucky."
"If it was a bit bigger crocodile, I wouldn't be talking to you now," he said.
Fishing boat skipper Craig van Lawick said he thought Galeran, an Australian resident born in the southeastern French city of Avignon, was joking about being attacked by a crocodile until he saw the blood.
Galeran was taken to a hospital in the remote mining town of Nhulunbuy, where he received several stitches to wounds to his head and neck.
Zoologist Charlie Manolis said the crocodile probably weighed less than 88 pounds and was too small to be a serious threat to an adult. It had probably misjudged Galeran's size in the moonless night.
"Had it been a four meter 13 foot or bigger crocodile, there would have been a 100 percent chance that he'd be dead now," said Manolis, chief scientist at Darwin's Crocodylus Park crocodile farm.
"That size animal in daylight would probably not have gone near him. It can cause you significant damage if the animal really bites you a fair bit, but really they're not strong enough to overpower a full grown human," he added.
Northern Territory government rangers on Monday set a trap to catch the crocodile at the site of the attack.
Manolis said crocodiles were plentiful around Nhulunbuy, where local Aboriginies regard them as a totem. But deadly box jellyfish were a greater threat to human life in the coastal waters during the summer months.
Crocodiles can grow up to 20 feet long and have become abundant across Australia's tropical north since they became protected by federal law in 1971.