Denmark: Terror suspects to face custody hearing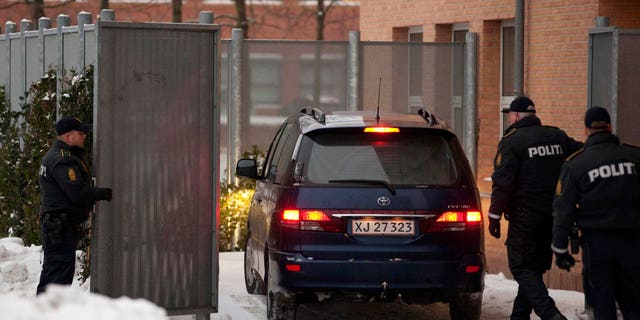 COPENHAGEN, Denmark – One of five men arrested possibly hours before a planned shooting attack on the office of a newspaper that published cartoons of the Prophet Muhammad is to be released, a Danish intelligence official said Thursday.
The official told the AP that the man, an Iraqi asylum seeker who was arrested in Denmark, is being freed but remains a suspect. He gave no other details. Three other men still face hearings in Copenhagen on Thursday.
The Wednesday arrests rattled Danes and brought renewed attention to simmering anger at the Jyllands-Posten newspaper, which has been the target of several attacks and threats since publishing cartoons of Muhammad in 2005, in what it called a challenge to perceived self-censorship.
Four of the suspects, including the Iraqi, were arrested in the suburbs of Copenhagen in two raids while the fifth suspect, a Swedish citizen of Tunisian origin, was arrested in Sweden.
The official who spoke to the AP did not say why the Iraqi-born Danish resident was being released. He spoke on condition of anonymity because he was not authorized to speak publicly.
Three of the arrested men in Copenhagen had arrived from Sweden in a rented car, which police followed from Stockholm.
The three Swedish residents — a 44-year-old Tunisian, a 29-year-old Lebanese-born man and a 30-year-old whose national origin was not released — face a closed-door custody hearing at the Glostrup City Court in the Danish capital later Thursday. Television footage showed heavily armed police officers outside the court building.
The men face preliminary charges of attempting to carry out an act of terrorism and possession of illegal weapons. Preliminary charges are a step short of formal charges, but if they are formally filed and they are convicted they could face life sentences.
Hours after the men were arrested, Jakob Scharf, head of the Danish Security and Intelligence Service, said they were "either heading out to carry out the terror attack or to do some kind of reconnaissance."
It wasn't immediately clear when the man arrested in a Stockholm suburb was expected to face custody hearings there, Swedish prosecution spokeswoman Karin Rosander said.
Scharf said Wednesday that the group had been planning a shooting spree in the building where the Jyllands-Posten has its Copenhagen newsdesk. He described some of the suspects as "militant Islamists with relations to international terror networks." He said more arrests were possible.
Scharf said the assault was to have been carried out sometime before this weekend, and could have been similar to the 2008 terrorist attack in Mumbai, India, that left 166 people dead.
"It is our assessment that the plan was to try to get access" to the newspaper office and "carry out a Mumbai-style attack," Scharf told reporters.