Cuba's Sugar Industry Showing Signs of Life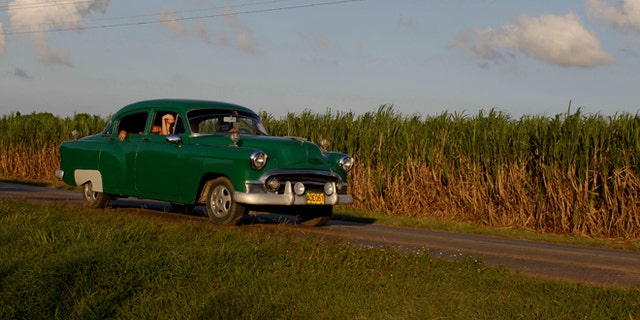 JARONU, Cuba – Two years after the worst harvest in more than a century, Cuba's signature industry is showing signs of life.
Hulking processing plants are coming back online and production is rising, a boon to rural towns like Jaronu where producing sugar has been a way of life for generations.
Officials recently said that the harvest is expected to increase by 20 percent in the coming season after jumps of 7 percent and 16 percent in the last two harvests.
At the Brasil refinery in the steamy central province of Camaguey, a $6 million makeover is under way. During a recent visit, bulldozers were busy re-grading the floor, operators were laying foundations for new machinery and workers buzzed about, hammering and welding amid a deafening mechanic roar and a pervasive oily odor.
"I've never seen as much money being spent here as there is now," said Alodia Campo, a 54-year-old plant engineer and among the few employees still remaining from the Brasil's glory days.
With world market prices rebounding, sugar is suddenly more profitable, and a radical reorganization of the sector could offer a blueprint for how to lift the rest of the island's inefficient command economy.
"The Cuban sugar industry is tied to the culture, history and identity of this country," said Liobel Pérez, spokesman for Azcuba, the largely autonomous state-run company that replaced the Sugar Ministry in late 2011. "Sugarcane will not define Cuba's future, but it will have to be a part of it."
Just two years ago, the sugar industry was on its knees.
The sugar minister had been sacked. State-run newspapers lambasted rampant inefficiency and thousands of workers were moved to other sectors. Eventually, the powerful Sugar Ministry itself was eliminated.
Even with the current reorganization, sugar revenues are far outpaced by sectors such as tourism and nickel mining.
Last year, sugar earnings were $333 million, while nickel brought in $1.25 billion, according to a study compiled by Rafael Romeu, a U.S.-based economist and former president of the Association for the Study of the Cuban Economy. Tourism brought in $2.5 billion in revenue in 2011, according to government figures.
President Raúl Castro created Azcuba as part of his effort to stimulate the farm sector and streamline a fossilized Marxist economy that even he says doesn't work anymore.
Unlike virtually every other part of the state-dominated economy, Azcuba gets to keep 65 percent of its revenues and make decisions about reinvesting without having to ask permission from the central government.
At the Brasil refinery, the mammoth rust-covered sheds installed by American Sugar Refining Co., which launched the plant in 1921, still stand. Although surrounded by the twisted carcasses of machinery ripped out of the structures, the Brasil is expected to be ready for the upcoming annual harvest and start milling cane by February.
That would have seemed an unlikely prospect during most of the last decade. The plant mostly sat idle or was intermittently used as a grain depot, with only 50 employees remaining from a workforce that once numbered 500.
The refinery came back online briefly in 2008, only to be shuttered after two years because it was so inefficient.
The Brasil's near-demise mirrors sugar's decline from the times when it accounted for 80 percent of Cuba's export income, principally from the nearby U.S. market before relations between the two countries soured in the 1960s.
The crop fueled Cuba's rum industry and permeated popular culture. Iconic singer Celia Cruz was famed for interjecting cries of "Azucar!" ("sugar") in her songs.
Over the decades since Cuba's 1959 revolution, bureaucratic mismanagement created a slow-growing crisis that exploded in 2002, said Arturo López-Levy, a Cuban economist at the University of Denver. At that time, sugar sold for just 6 cents a pound on world markets.
Cuban officials mothballed much of the industry, shuttering 100 of the island's 156 refineries and converting some 3 million acres (1.2 million hectares) of cane fields to other crops.
Production plummeted. From a peak of approximately 8 million tons in 1989, sugar output hit a 105-year-low of 1.1 million in 2010.
It was a black eye for a country where Fidel Castro once sent brigades of soldiers, students, homemakers and bureaucrats from the cities to the countryside in an ill-fated drive to reap 10 million tons of cane.
Each year, the government welcomed foreign sympathizers to visit Cuba and cut cane in solidarity with the socialist revolution.
A restructuring that began in 2002 saw thousands of people lose their jobs, though they were offered employment in other agricultural sectors or job retraining programs.
Now with sugar topping 20 cents a pound worldwide, Cuba is newly motivated to revive the industry and stimulate production.
Authorities have begun overhauling the Brasil and other mills, paying farmers more for cane and handing over fallow land to private growers and agro-cooperatives. As with other sectors of the economy, efficiency is the buzzword, and officials hope Azcuba will be more nimble than the ponderous Sugar Ministry.
Wilson Morell, vice president of Azcuba, set a goal of returning to 4 million tons per year by modernizing the 56 refineries still online, though he did not set a date. That would achieve half of Cuba's historical peak output with about a third of the facilities.
Cuba acknowledges it still must address issues such as installing modern irrigation systems, improving the supply chain and guaranteeing quality of cane sent to the mills. Foreign investment in the sector is nonexistent, though Morell and Pérez said negotiations are under way on possible British investment in a bioelectrical plant at one refinery.
Lopez-Levy, whose father was an engineer in the industry, applauded measures such as Azcuba's financial independence. But he cautioned that it's too early to brag about a major comeback, saying it remains to be seen whether the sector can overcome the stubborn bureaucratic mindset that has long plagued Cuba.
"After so many disasters, a measure of skepticism is realistic," the economist said.
Based on reporting by the Associated Press.
Follow us on twitter.com/foxnewslatino
Like us at facebook.com/foxnewslatino