Consultations under way for new S. Sudan government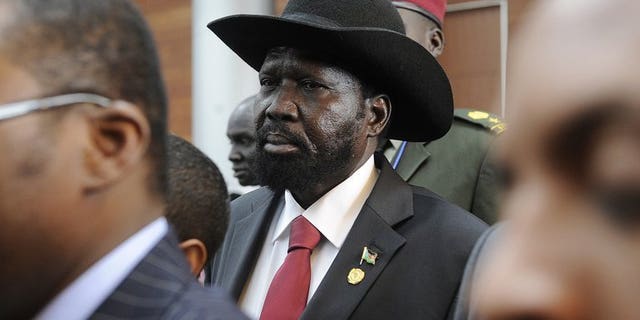 JUBA, South Sudan (AFP) – South Sudan's President Salva Kiir on Thursday held consultations with a view to setting up a new government, two days after firing his entire cabinet, a government official said.
"The president wants to have time to consult before coming out with the government," Mayen Makol, spokesman at the foreign affairs ministry, told AFP.
He declined to say how long the consultations would last.
"It could be three days, four days, a week," he said, adding that in the meantime ministries are being run by senior civil servants.
In a series of decrees signed Tuesday evening Kiir sacked his 28 ministers and their deputies as well as 17 police brigadiers and he announced his next government would consist of only 19 ministries.
A joint statement Thursday from the African Union, Canada, Norway, Switzerland, Britain and the United States urged all parties in South Sudan "to take all measures necessary to maintain calm and prevent violence."
On Thursday the South Sudanese capital Juba, where security was beefed up following Tuesday's decrees, was calm.
The diplomats further called on South Sudan's leaders "to expedite the formation of a new cabinet".
"We encourage South Sudan to do so in a manner that reflects the diversity of the South Sudanese people," the statement said.
"It is critical that South Sudan stay true to the vision it laid out for itself two years ago at its independence. That vision can only be realized through sustained commitment to democracy and good governance, justice and accountability, and respect for rule of law and the human rights of all of South Sudan's people," it went on.
Among those fired was Kiir's deputy and major political rival Riek Machar.
Another of Kiir's political rivals, Pagan Amum, secretary general of the ruling Sudan People's Liberation Movement, was suspended and is being investigated for "mismanagement" and "insubordination."
Many of the ministers were key figures in the rebel SPLM or its armed wing that fought a brutal 1983-2005 war against the government of Sudan, which led to a 2011 referendum in which South Sudan voted overwhelmingly to split from the north.
Fired vice president Machar, of the Dok Nuer people from the key oil producing Unity state, is a controversial figure but commands loyalty among many branches of the Nuer, who form an integral part of the footsoldiers of the new nation's ex-rebel army.
He has made no secret of his desire to challenge Kiir for the presidency in elections due in 2015.
However, he fought on both sides of the civil war, leading a splinter SPLM faction that sided with the Sudanese government, battling troops commanded by Kiir, who comes from the Dinka people.
Machar's troops are accused of a brutal massacre in the ethnic Dinka town of Bor in 1991.
"This latest move is part of an ongoing struggle in the highest levels of South Sudan's political leadership," said Akshaya Kumar of the US-based Enough Project, which campaigns for peace in the Sudans.
However, Charles Manyang, foreign affairs undersecretary and now temporarily in charge of the ministry, told reporters the sackings were a "legitimate exercise" of power by Kiir.
Last month, Machar led talks with Sudan's President Omar al-Bashir to ease tensions after his government threatened to halt South Sudanese oil flows transported through Sudan, worth billions of dollars to both impoverished neighbours.
Amum was the top negotiator with Sudan at long-running African Union-mediated talks over a raft of issues left unresolved at independence, including border demarcation and oil exports.