Cleric names library after Usama bin Laden at Pakistani girls school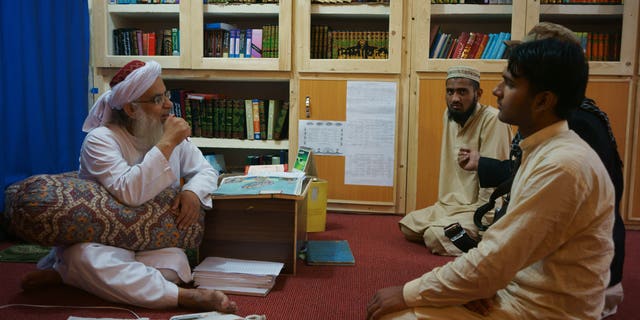 ISLAMABAD – Most didn't notice the new library at this Islamic seminary for girls near Pakistan's capital, until locals saw the paper sign in Urdu posted on its wooden door: "Library of Usama bin Laden, the Martyr."
Cleric Maulana Abdul Aziz, a radical preacher who runs the Jamia Hafsa madrassa, wanted to honor the memory of the al Qaeda leader, killed in a May 2011 raid by U.S. Navy SEALs on his hiding place in Abbottabad, a garrison town about 75 miles north of the capital, Islamabad.
But while the library's name has garnered attention across Pakistan, a country where public opinion remains strongly anti-American and religious students today still idolize the man behind the Sept. 11 terror attacks, his image increasingly has faded from public view in recent years. As Pakistan has seen thousands killed in its own war against its local Taliban, a public that once named its own children after the Saudi millionaire has grown increasingly angry with militant violence.
Pictures of bin Laden and stores bearing his name once dotted the countryside of Pakistan, where U.S. drone strikes against militants have grown increasingly unpopular over civilian casualties. Islamists held small rallies across Pakistan after the raid to denounce his killing, which embarrassed the country's military for not detecting it. The slain al Qaeda chief is still regarded as a hero by most students at Islamic schools, or madrassas.
But this image spread as a symbol in part because at the beginning of the U.S. invasion of Afghanistan, many supported the Taliban there. But since there were no images of its leader, Mullah Omar, they adopted the bearded images of bin Laden instead.
As Pakistani authorities began arresting Taliban leaders and associates of bin Laden, the public grew increasingly scared about showing his image. Those that remained up slowly faded away in the sun or washed away in torrential, seasonal rains.
Aziz's naming of the library is the first public remembrance of bin Laden in some time, capturing the attention of local media. For Aziz, bin Laden is an icon, the cleric's spokesman Tehsin Ullah told The Associated Press on Friday.
"Aziz thinks that Usama bin Laden is a hero and he is a martyr and that is why he selected Usama bin Laden's name for the library," Ullah said.
The madrassas are an important aspect of education in the predominantly Muslim Pakistan, and tens of thousands of students study there. Most of the religious schools provide free food, tuition and even board for students who come from other parts of the country. Some also serve to radicalize youth to join militants. Aziz's students have joined anti-American protests put on by the hard-line cleric.
Aziz is a prayer leader at Islamabad's Red Mosque -- a former militant hideout that the army on orders from then-President Pervez Musharraf raided in 2007. The raid killed dozens of extremists and others and unleashed a wave of retaliatory militant attacks across Pakistan.
Aziz was arrested by police during the raid when he tried to escape wearing a burqa. Later freed, he began running a boy's and girl's school connected to the mosque.
The newly constructed, one-room library is located inside the school compound, next to a computer room and Aziz's office. There were no visible books or portraits of bin Laden inside the library when Associated Press journalists visited Friday. Abdul Rehman, the school's administrator, said it only will carry books about the teachings of Islam.
Rehman refused to discuss bin Laden, saying girls at the school also learned computer skills. However, Rehman stopped journalists from speaking to students, saying Islam doesn't allow men who are not family members to interact with female students or teachers.