China's former security chief expelled from party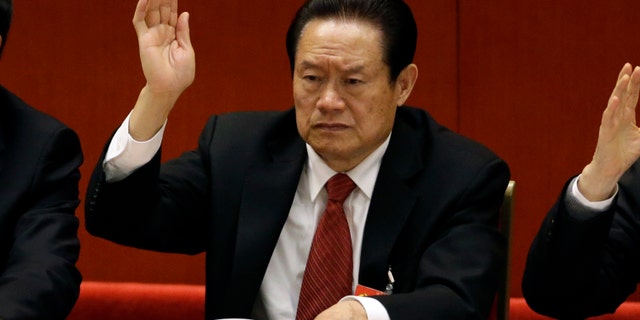 BEIJING – The Chinese Communist Party has expelled the country's former security chief Zhou Yongkang, the official Xinhua News Agency said early Saturday, and prosecutors have opened an investigation into his suspected crimes, including accepting bribes and leaking the country's secrets.
The report said Zhou, a former member of the powerful Politburo Standing Committee, "abused his power to help relatives, mistresses and friends make huge profits from operating businesses, resulting in serious losses of state-owned assets."
The decision was made Friday after attendees at a meeting of the Political Bureau of the party's Central Committee deliberated over an investigation report on Zhou's "severe disciplinary violations," Xinhua said in bulletin published shortly after midnight Saturday. The phrase is usually used to describe corruption.
The investigation found that Zhou had "seriously violated the Party's political, organizational and confidentiality discipline," the report said.
"Zhou leaked the Party's and country's secrets," the report went on to say. "He seriously violated self-disciplinary regulations and accepted a large amount of money and properties personally and through his family. Zhou committed adultery with a number of women and traded his power for sex and money."
The decision comes after the Communist Party in July said it was investigating Zhou.