China may end birth limits as soon as this year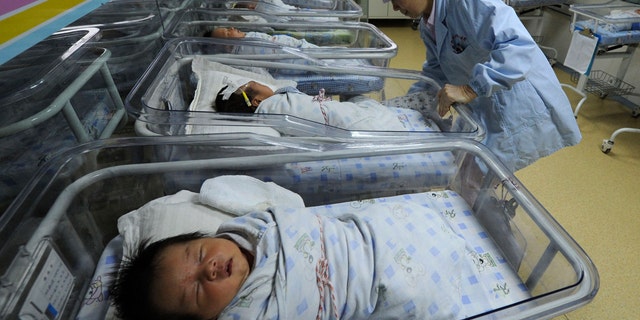 NEWYou can now listen to Fox News articles!
China is considering ending the limits it sets on the number of children a family can have, people familiar with the matter told Bloomberg.
China's population of 1.4 billion is aging rapidly, with the number of births falling by 3.5 percent to 17.23 million last year, Reuters reports, despite the country's decision in late 2015 to relax the country's controversial "one-child" policy and allow couples to have a second child.
The Communist country's State Council, or cabinet, has commissioned research on ending the country's birth limits on a nationwide basis, Bloomberg reports.
A decision could be made in the last quarter of this year or in 2019.
China implemented its one-child policy in the 1970s to limit population growth, but authorities are concerned that a dwindling workforce will not be able to support the aging population.
US, CHINA TENTATIVELY AGREE TO END THE AMERICAN TRADE DEFICIT
The one-child policy—which has been decried by human rights activists—also contributed to a sharp gender imbalance, with 32.66 million more males than females at the end of 2017.
"It's late for China to remove birth limits even within this year but it's better than never," Chen Jian, a former division chief at the National Family Planning Commission, who's now a vice president of the China Society of Economic Reform, told Bloomberg. "Scrapping birth limits will have little effect on the tendency of China's declining births."
The policy change would close the book on one of the largest social experiments in human history, which left the world's most-populous country with a rapidly aging population and 30 million more men than women. The policies have forced generations of Chinese parents to pay fines, submit to abortions or raise children in the shadows.