Chile Shuts Down Luxury Prison Housing Military Officials Convicted Of Crimes In 'Dirty War'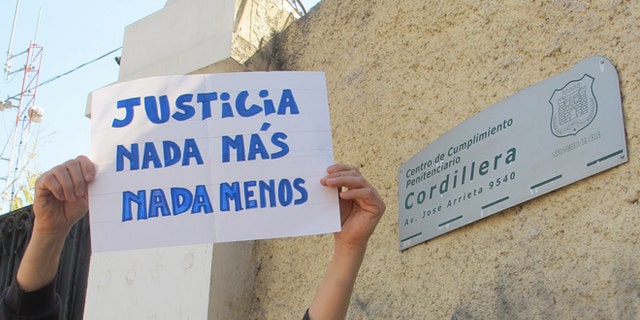 SANTIAGO, Chile – Chilean President Sebeastián Piñera announced the closure of a luxury prison for dictatorship-era military officials convicted of crimes against humanity, taking away their tennis courts, barbecues and a pool.
The Cordillera prison, located on an army base, offers the officers jailed for killings, torture and other abuses during Gen. Augusto Pinochet's 1973-90 dictatorship far better conditions than Chile's normal penitentiaries. The inmates live in small cabins with private bathrooms, have hot showers and get lots of natural light.
President Sebastian Piñera said his government decided to close Cordillera taking into account "equality before law" as well as the security of the prison's 10 inmates, who will now serve time at Punta Peuco, another special jail for human rights offenders.
The decision came after Manuel Contreras, the former chief of Pinochet's secret service, gave an interview inside Cordillera ahead of the 40th anniversary of the military coup.
Contreras, who is serving combined sentences of more than 100 years for kidnappings and murders, mocked prison guards, saying they were only there "to hold his cane," and he claimed that all of the thousands of disappeared during the dictatorship were armed leftists killed in gunfights.
Cordillera was built in 2004 during the presidency of Ricardo Lagos to avoid overcrowding at Punta Peuco.
Former President Michelle Bachelet, who was held and tortured during the dictatorship, praised the decision to close Cordillera.
"This means that the country now has the political conditions to do this," said Bachelet, who is the front-runner in the campaign for the Nov. 17 presidential election.
The privileged conditions at Cordillera have been criticized ever since it was built.
But the public outcry reached a high point Wednesday when supporters of former Brigadier Miguel Krassnoff tried to organize a BBQ in his honor at Cordillera, where he is also serving a sentence of more than 100 years. An event honoring Krassnoff in 2011 ended in clashes between his supporters and human rights activists.
"It's unbelievable that Chilean society allowed jails with these types of luxuries for human rights criminals," Claudio Escobar Caceres, 51, said at a demonstration by human rights activists outside the prison. He held up a sign that read in Spanish: "Justice. Nothing more."
The current governing coalition, led by the Independent Democratic Union and the National Renovation, is the first conservative government since Chile's return to democracy in 1990. Members of both parties supported Pinochet's dictatorship and several Pinochet-era officials now serve as lawmakers.
In 2011, Piñera's government officially recognized 9,800 more victims of the dictatorship. That increased the total list of people killed, tortured or imprisoned for political reasons during Pinochet's regime to 40,018. The government estimates 3,095 of those were killed, including about 1,200 who were forcibly "disappeared."
About 700 military officials face trial for the forced disappearance of dissidents and about 70 have been jailed for crimes against humanity.
"It's a milestone, a right decision from the human rights point of view," Lorena Fries, director of Chile's official Human Rights Institute, said of the shutting of Cordillera.
"The president said it best: It's about equality because there are thousands of people living in overcrowded prisons," Fries said. "And this was a slap in the face for the law."
A fire that began during a riot in a severely overcrowded prison killed at least 81 inmates in 2010.
A recent report by police said the 10 inmates at Cordillera have been looked after by 35 guards, compared to one guard per 50 prisoners at regular Chilean prisons.
"How much did this luxury jail for murderers cost?" said Carolina Soto, 33, a teacher protesting outside the prison.
Based on reporting by The Associated Press.
Follow us on twitter.com/foxnewslatino
Like us at facebook.com/foxnewslatino