Chicago police has targeted minority communities with more DUI checkpoints, report finds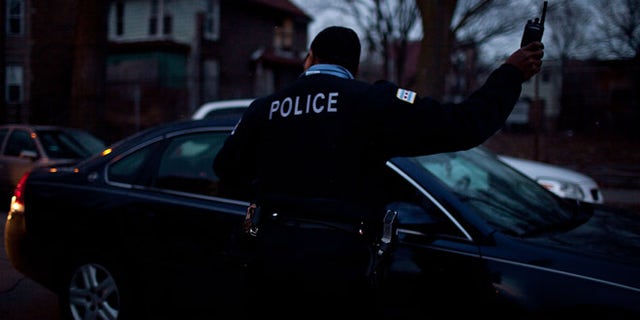 NEWYou can now listen to Fox News articles!
CHICAGO (AP) – The Chicago Police Department has set up far more roadside sobriety checkpoints in minority communities in recent years than it has in predominantly white communities, a Chicago Tribune investigation has found.
Out of 152 roadside sobriety checks, 127 -- or 84 percent -- were in black or Hispanic police districts between February 2010 and June 2014, the most recent period with complete data, the newspaper reported. At the same time, fewer than 4 percent of the DUI checkpoints were in majority-white police districts, even though those areas accounted for 25 percent of the city's alcohol-related crashes during at least part of that time period.
The Chicago Police Department says its decisions on where to conduct the operations are based on reviews of traffic accident data.
"Data from major accidents and intelligence from district commanders is reviewed weekly," spokesman Martin Maloney wrote in an email to The Associated Press.
The newspaper published its report at a time of heightened concern about the relationship between police departments and minority communities throughout the country. And some legal experts and lawmakers saw a pattern of discrimination in the newspaper's findings.
The newspaper says its review found some of the districts with the most checkpoints had relatively few alcohol-related accidents.
For example, the Grand Crossing neighborhood was tied for the most sobriety checkpoints -- 13 during the four-year timespan the newspaper looked at -- but also had the fewest drunken driving incidents from 2010 through 2012, according to the Illinois Department of Transportation's most recent records.
On the other hand, Jefferson Park, a predominantly white community that's home to about 20 percent of the city's police officers, had one of the highest rates of drunken driving accidents in the city, according to the same traffic data. Yet it did not have a single sobriety checkpoint over the time period examined by the Tribune.
Maloney said police did conduct a different kind of DUI enforcement in Jefferson Park through mobile patrols in which officers look for suspected drunken drivers.
The stepped-up enforcement in minority areas led some to wonder whether officers are using DUI checkpoints as a pretext to stop people in certain neighborhoods and look for other criminal activity.
"They pull (drivers) over under the guise of DUI, but they're running them for warrants, making sure their paperwork is in order," defense attorney Donald Ramsell told the Tribune.
Democratic U.S. Rep. Danny Davis, whose district covers part of Chicago's West Side, was also troubled.
"While we need to be trying to detect the use of alcohol while driving, the results show something else ... patterns and practices of setups, stings, overreaction and discrimination," he told the newspaper.