Catholics React To Pope Francis' Remarks On Gays, Abortion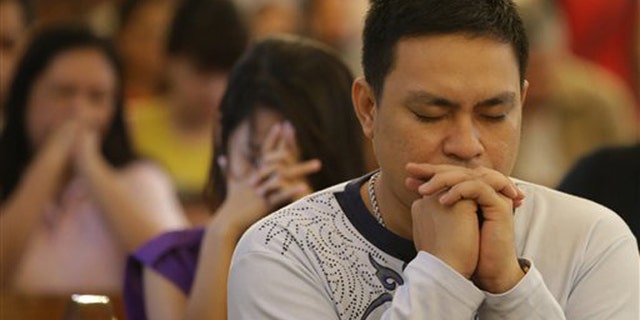 Catholics around the globe are reacting mostly positively to Pope Francis' recent remarks that the church has become too focused on "small-minded rules" on hot-button issues like homosexuality, abortion and contraceptives.
At Masses over the weekend, the faithful reflected on how they believe Francis' comments will impact the Catholic Church. The pope said Thursday that pastors should focus less on divisive social issues and should emphasize compassion over condemnation.
Marilyn White, 73, who worshipped Sunday at New York City's famous St. Patrick's Cathedral, welcomed the pope's words.
"I think he sent a good message," White said. "I think he's opening a way for people to communicate, dialogue and maybe come back to the church."
New York Cardinal Timothy Dolan told reporters after Mass that Francis "speaks like Jesus" and is a "breath of fresh air."
Outside a church in Coral Gables, Fla., Frank Recio said he was grateful that the pope is trying to shift the tone of the church.
"I'm a devout Catholic, always have been. I think the Catholic Church had gotten out of touch with the way the world was evolving," said Recio, 69, who's retired from a career in the technology industry.
He said he was glad about the way the pope discussed abortion. Recio believes life begins at conception but also supports a woman's right to choose.
He also said he'd support changes like allowing priests to marry. "It's a natural state in life, for men and women to have a partner," said Recio.
Irene Delgado, a practicing Catholic in Havana, Cuba, said the church needs to adapt to modern times.
"The world evolves, and I believe that the Catholic Church is seeing that it is being left behind, and that is not good," said Delgado, 57. "So I think that they chose this Pope Francis because he is progressive, has to change things."
She added: "And I am sure the church is going to do it because the church always knows how to adapt to all eras of history."
In Boston, Evelyn Martinez, 26, said she agrees with Francis that compassion should be one of the church's main priorities.
"I don't believe that someone's sexuality should keep them away from any religion," said Martinez, a graduate student at Emerson College who attended Mass on Saturday night.
In the Philippines, Asia's largest predominantly Catholic nation, Manila businesswoman Ching Domasian said Sunday that the church needs to constantly advocate against abortion and homosexuality, but she appreciates the pope's outreach.
A day after Francis' comments signaling a dramatic shift in Vatican tone, he appeared to offer an olive branch to the more conservative wing of the church by denouncing abortions and stressing the need to defend the rights of the unborn.
Recio said he was glad the pope spoke about abortion Friday, though he personally believes in a woman's right to choose.
Jose Baltazar, a 74-year-old vice president of an insurance company and longtime church volunteer in Manila, said the pope has set his priorities mindful of stark realities.
"We have to give priority in working to bring those who have gone astray back to the fold," Baltazar said. "We pray for them. Why did they go astray? What's our shortcoming? What's the shortcoming of the Catholic Church?"
Based on reporting by the Associated Press.
Follow us on twitter.com/foxnewslatino
Like us at facebook.com/foxnewslatino