Cairo Parties as the Economy Struggles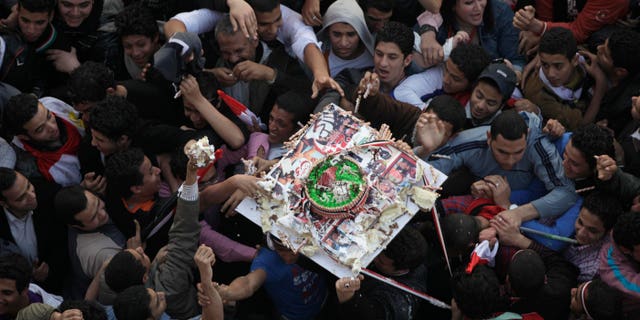 A quarter of a million Egyptians poured into Cairo's Tahrir Square to attend a victory celebration one week after Egypt's President Hosni Mubarak was forced to resign. More people crammed into the square and nearby streets than at any time during the 18 days of protests that ultimately brought down the government.
"I arrived after Friday prayer to celebrate the victory with the Egyptian people," said high school teacher Hamada El Reely. He said Egyptians came to Tahrir Square to tell the world, "Welcome back, Egypt."
The overwhelming majority of demonstrators were in festive mood. Parents took pictures of their kids on army tanks and a block-long flag was unfurled and snaked through the square. The crowd roared with approval when a military helicopter flew overhead. An army band played patriotic music. It seemed that everyone waived an Egyptian flag or was selling them at the cost of about a dollar apiece.
Security was tight with army troops frisking men and women before they could enter the square. Separate lines of men and women stretched more than 200 yards. The police, whom many associate with oppression of the Mubarak regime, were nowhere in sight.
A makeshift memorial with photos of some of the more than 300 protesters killed during the demonstrations stood in the square. A controversial religious leader and member of the fundamentalist Muslim Brotherhood, Sheik Yusuf Al-Qaradawi, called for the military council now ruling Egypt to release all political prisoners. Qaradawi also said Egypt's sealed border with Gaza should be reopened.
Many of those in attendance still seemed uncomfortable with their newly won freedom. A number of celebrants fearful of Mubarak-era reprisals were reluctant to speak with journalists. An 18-year-old student from outside Cairo hesitantly talked about freeing political prisoners, as a friend whispered, "Don't be scared, there is nothing to be scared of."
Despite the countrywide party, Egypt's economy remains in turmoil with strikes affecting virtually all industries. The ruling military council has urged that unless people return to work there will be serious economic consequences. A Cairo marketing manager, Sayed Hamed, agreed and said, "I think there shouldn't be protests because we need to develop the economy. Whatever we achieved was a dream. We should get back working."
Samah Mohammad, who described herself as a house wife, also said the labor protests should end. On her way to the square to celebrate she said, "These protests have halted services in the country for a long time. There are so many government offices that are closed." After being closed since the protests began, Egypt's Central Bank plans to reopen on Sunday.