Brazil's new president woos U.S. investors while in NY; says political turmoil is over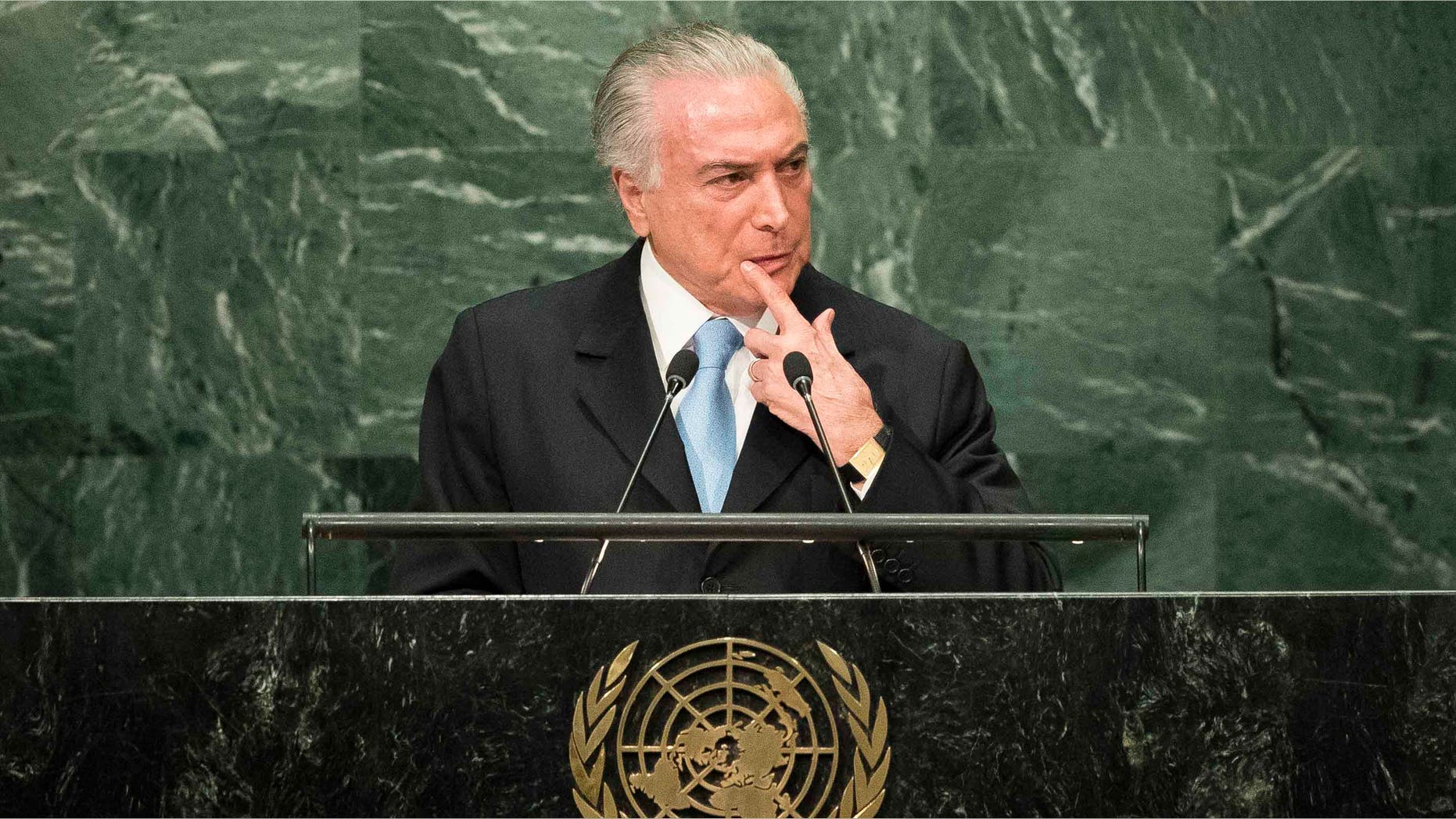 New York – Only 22 days after officially being sworn in, Brazilian President Michel Temer made a pointed appeal to United States investors that his country is open for business.
Speaking to a group of business leaders gathered at a luncheon hosted by the Council of the Americas, the former vice president said that his country's political turmoil is over and Brazil is moving forward to make its consumer markets more appealing to foreign business interests.
Temer was sworn in on Aug. 31 following the ouster of President Dilma Rousseff.
"Trust in the country was lost," Temer said on Wednesday. "Point number one is to bring back that trust. Brazil now has political stability, will guarantee the legal confirmation of contracts and has a huge consumer market."
Temer's speech in New York closely mirrored earlier statements in which the newly appointed Brazilian leader said that he will push economic reforms and more business-friendly policies than his predecessor — despite having generally positive relations with the U.S., Rousseff clashed occasionally with the Obama administration, most notably after the NSA spying scandal.
One of Temer's first acts when he became interim president in May was to invite the U.S. ambassador to a private meeting, an act that was not extended under Rousseff.
Rousseff was impeached at the end of August for breaking fiscal laws and after a yearlong high-pitched political battle that paralyzed Latin America's most powerful nation, helped bring down its economy and exposed deep rifts among its people on everything from race relations to social spending.
"In Brazil, we went through a short period of political instability," Temer said on Wednesday. "We've talking about this for 10 to 12 months, but what I'm doing now is to talk about the opportunities in the Brazilian infrastructure."
Brazil's economy shrank 3.8 percent in 2015 and the International Monetary Fund is forecasting it will shrink another 3.3 percent this year. Brazil's unemployment rate hit 11.6 percent in July, up from 8.6 percent a year ago. And the budget deficit is on pace to reach almost $48 billion by the end of this year.
Since Temer became president, Brazil's economy, long in a precipitous decline, has begun to rebound. During his speech he reiterated his words from Tuesday before the United Nations' General Assembly that his most pressing task is to restore the economy and create jobs for the millions of people who have been hit hardest by the country's recession.
"From day one my intention is that I want to foster progress that I see as vital to Brazil," he said.
The 75-year-old Temer pointed to his good relations with Brazil's congress as a main reason why he believes he can turn the Latin American giant's ailing economy around. A former congressman and speaker of the country's lower house, Temer is popular among financiers for his detailed plan to help Brazil's crumbling economy rebound, which the Financial Times called "the ultimate investors' wish list" and his calls to cut spending and privatize many sectors currently controlled by the state.
"We have outstanding levels of political stability in Brazil because of the good relationship between the executive and legislative branches of government," the Brazilian president said.
Despite his popularity with some lawmakers and investors, he is not well liked by the Brazilian public as a whole.
Temer himself is under investigation for allegedly receiving more than $1.5 million in illegal campaign contributions from a company that has construction contracts with Petrobras. The president denies any wrongdoing, but polling shows the majority of the country wants him impeached as well.
Speaking to the media after his speech on Wednesday, Temer said that he doesn't care about his approval ratings as he is more focused on saving Brazil from its tenuous economic situation.
Temer also brushed off the bitter divisions that were on display Tuesday, when Venezuela and six other Latin America countries walked out as he addressed the General Assembly, protesting the impeachment of his predecessor.
"I have to admit I didn't even notice them leave," he said.
Temer is scheduled to meet with U.S. Vice President Joe Biden later on Wednesday afternoon.
The Associated Press contributed to this report.