In first U.N. address, Brazil President Temer defends Rousseff's impeachment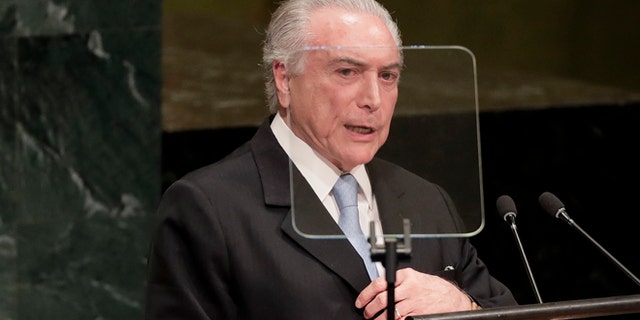 In his first address before the United Nations General Assembly, Brazilian President Michel Temer defended Tuesday the impeachment process that ended up with the removal of his predecessor, Dilma Rousseff.
Temer said Brazil's commitment to democracy was "non-negotiable" and assured the hundreds of heads of state that despite the protesters' cries of "coup," the impeachment process occurred with the "utmost respect for the constitution."
Temer, the former vice president, became acting president in May and became Brazil's 37th president after the Senate voted to impeach Rousseff on Aug. 31.
"Brazil just finished a long and complex process, conducted by the country's Congress and Supreme Court, which culminated in an impeachment," he said. "We are clear about the way forward: The path of fiscal and social responsibility."
Since Temer became president, Brazil's economy, long in a precipitous decline, has begun to rebound. He told the General Assembly that his most pressing task is to restore the economy and create jobs for the millions of people who have been hit hardest by the country's recession.
He also called on foreign investors to reconsider Brazil. "Our development prospects rely on investment, on trade, on science and technology. On this, our relationships with countries from every continent will be decisive."
Like us on Facebook
Follow us on Twitter & Instagram