Brazil lawmakers will soon vote whether to remove President Rousseff from office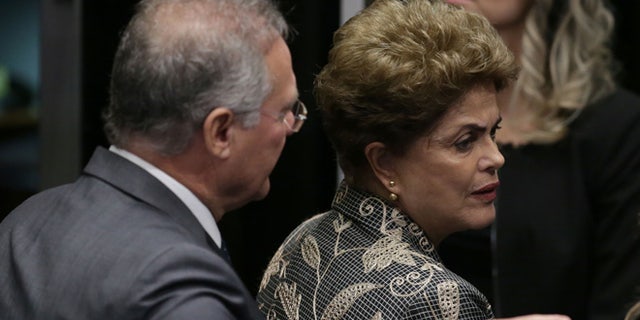 NEWYou can now listen to Fox News articles!
BRASILIA, Brazil (AP) – Senators debated the fate of Brazilian President Dilma Rousseff into the wee hours of Wednesday, then planned a short break before casting votes that will decide whether to remove her permanently as leader of Latin America's most populous country.
Many of the 81 senators signed up to speak Tuesday afternoon on the fifth day of her impeachment trial, prompting Chief Justice Ricardo Lewandowski to announce that they would go as long as it took for everyone to be heard. He said the trial would resume late Wednesday morning for the final vote on removing her.
Passionate closing arguments by Rousseff's accusers and speeches by her allies appeared to be doing little to tip the balance in her favor on the eve of the impeachment decision. Suspended by the Senate in May, Rousseff faces permanent removal for breaking fiscal responsibility laws in her managing of the federal budget.
Most of the senators making statements attacked Rousseff, blaming her for Brazil falling into its deepest recession in decades and saying she ignored signs of a slowdown.
"The most perverse consequence of the actions of the president is that 12 million are unemployed, 5 million since she was re-elected," said Sen. Aecio Neves, who narrowly lost the presidential election to Rousseff in 2014.
Before senators began speaking, the prosecution and defense rested their cases.
Janaina Paschoal, the lawyer leading the case against Brazil's first female president, said Rousseff committed fraud when breaking fiscal laws.
"We are not dealing with a little accounting problem," she said. "The fraud was documented."
Paschoal then broke into tears as she asked for Rousseff's forgiveness for making the president suffer.
Rousseff's defense attorney, Jose Eduardo Cardozo, also got emotional after closing his case and called Paschoal's teary comments "insulting."
The presentations came in the final phase of a political fight that has polarized Brazil since the impeachment measure was introduced in the lower Chamber of Deputies late last year.
For Rousseff to be removed, at least 54 of the 81 senators must vote in favor. Local media have reported that at least 52 senators have said they will vote for ouster, while roughly 18 are opposed and 11 have not said. In May, the same body voted 55-22 to impeach and suspend her.
Allies of Rousseff have signaled that if she is removed from office, they will take the case to the Supreme Court. But several motions filed to the country's highest court throughout the impeachment proceedings have failed.
Opposition senators accuse Rousseff of using illegal means to hide holes in the federal budget, saying that exacerbated a recession and led to high inflation and daily layoffs.
Rousseff, a former guerrilla fighter who was tortured and imprisoned during the country's dictatorship, says she broke no laws and notes that previous presidents used similar accounting measures.
On Monday, she argued before senators that she was forced to make tough choices on the budget in the face of declining revenues and a refusal by opponents in Congress to work with her.
"I know I will be judged, but my conscience is clear. I did not commit a crime," Rousseff told senators in a 30-minute address.
Rousseff had sharp words for her vice president, Michel Temer, who took over when she was temporarily suspended and will finish her term through 2018 if the Senate permanently removes her.
She called him a "usurper" who in May named a Cabinet of all white men in a country that is more than 50 percent non-white. Temer's Cabinet has been roundly criticized for its lack of diversity, with three ministers were forced to step down within a month of taking office because of corruption allegations.
Rousseff asserted that impeachment was the price she paid for refusing to quash a wide-ranging police investigation into the state oil company Petrobras, saying that corrupt lawmakers conspired to oust her to derail the investigation into billions in kickbacks at the oil giant.
Rousseff said it was "an irony of history" she would be judged for crimes she did not commit, by people accused of serious crimes.
Like us on Facebook
Follow us on Twitter & Instagram