Belgian PM announces a 'serious and imminent' threat against Brussels
Belgium's prime minister said Sunday that the country's capital is maintaining the highest terror alert for a sustained "serious and imminent" threat.
Schools and universities in Brussels will be closed, and the city's subway will remain shut down, government officials decided at a meeting of the country's National Security Council.
With one suspect in the Nov. 13 attacks in France last seen crossing into Belgium, officials in Brussels kept much of the city shut down during the weekend. Officials also recommended that sports competitions and all activities in public buildings be canceled, and malls and commercial centers closed.
"We fear an attack like in Paris, with several individuals, perhaps in several places," said Prime Minister Charles Michel, who chaired the meeting. Brussels was put on Level 4, the highest state of alert, while the rest of Belgium was on Level 3.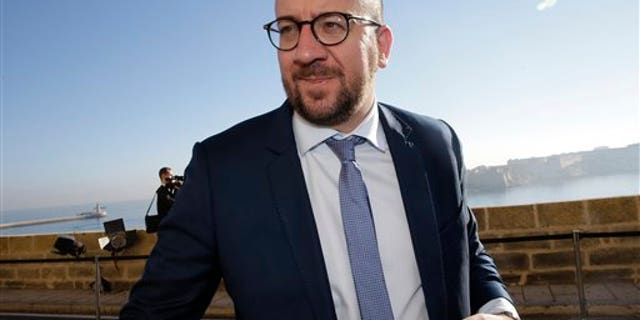 Belgian Interior Minister Jan Jambon said several suspects tied to the Paris attacks were thought to be at large and that the threat wouldn't necessarily disappear if Salah Abdeslam -- who is believed to have played a key role in the attacks -- was found.
On Saturday, Brussels was shut down, and people in the city were advised to avoid attending concerts, train stations, department stores and other areas where large groups of people would normally gather.
Michel urged people to remain calm, saying, "We urge the public not to give in to panic, to stay calm. We have taken the measures that are necessary."
Speaking at a news conference Saturday, Michel said that there were fears that "several individuals with arms and explosives could launch an attack ... perhaps even in several places."
The continued terror alert in Brussels came as French police asked for the public's help in identifying a third man authorities suspect of being involved in the Nov. 13 attacks in Paris that left 129 dead and hundreds more injured.
The Associated Press contributed to this report.