Bangladesh to hold elections Dec. 23 despite Zia's arrest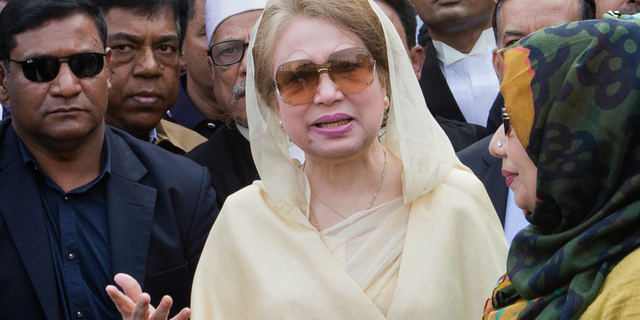 DHAKA, Bangladesh – Bangladesh's Election Commission announced Thursday that the next national election will be held Dec. 23, despite the imprisonment of the leader of the main opposition party and the banning of its chief partner.
Chief Election Commissioner K.M. Nurul Huda said in a televised address that all arrangements have been made to ensure the election will be peaceful. Candidates must file their applications on Nov. 19.
Huda said all political parties would receive an equal opportunity and urged all to contest the election.
Prime Minister Sheikh Hasina will head an election-time government as provided for in the constitution. The opposition has demanded an independent caretaker administration, saying the election could be rigged under Hasina.
Hasina's arch rival, former Prime Minister Khaleda Zia, is in jail on corruption charges. It is uncertain whether her Bangladesh Nationalist Party will participate in the polls. The party and its partners boycotted the last election in 2014, when Hasina returned to power with a commanding majority.
Zia, 73, has been in jail since February, when she was sentenced to five years' imprisonment for alleged corruption in the establishment of an orphanage fund during her first term as prime minister in 1991-1996. Following an appeal, the High Court extended her sentence to 10 years.
In a second case, a trial court last month sentenced Zia to seven years in jail on corruption charges linked to a charity fund named after her late husband.
Zia's party says both cases are politically motivated.
Also last month, the Election Commission canceled the political registration of Jamaat-e-Islami, the main partner of Zia's party, which prevents it from contesting the election. The court said the party's registration violated election laws and the spirit of the constitution because the party had opposed the country's war of independence with Pakistan in 1971. The party is a fierce opponent of Hasina and is eager to regain its strength after the executions of its top leaders on charges of war crimes during the conflict.
The polls would be Bangladesh's 11th general election since it gained independence in the war.
A newly formed opposition alliance quickly rejected the election schedule on Thursday and urged the Election Commission to push the date back. Zia's party is the main partner in the alliance.
On Thursday, Zia was returned to a Dhaka jail from a hospital where she had been receiving treatment for multiple health problems.
Zia faces more than 30 other cases pending in courts across the country.
Her elder son, Tarique Rahman, the heir-apparent in a political culture of dynastic politics, has been in exile in London for years to avoid arrest. A court last month sentenced him in absentia to life in prison in a 2004 grenade attack case.
Bangladesh has been a parliamentary democracy since 1991 after an autocratic government led by former military chief H.M. Ershad was toppled by mass protests. Hasina and Zia have since ruled the country under a complex political culture in which violence has often marred the electoral process.
___
This story has been corrected to show that election official's name is K.M. Nurul Huda instead of A.K.M. Nurul Huda.