Australian rescuers shoot, gut 2 crocodiles in hunt for missing boy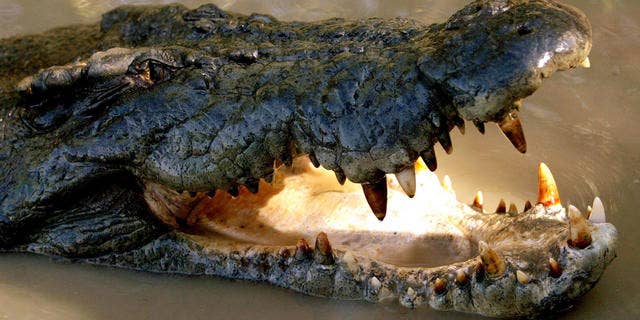 Rescuers shot two crocodiles and ripped open their stomachs in the hunt for a boy missing in northern Australia since Sunday.
Police say the boy was swimming with friends in Kakadu National Park when they were attacked by a saltwater crocodile. The reptile grabbed the boy, 12, and dragged him toward a waterhole, according to a Sky News report.
Another 12-year-old boy swimming nearby was bitten on the arm as he tried to fight the creature off.
Rescuers covered air, land and sea in their search Monday around a local creek that feeds the waterhole, but there have been no signs of the child.
No human remains were found in the two crocodiles.
A trap was set in the creek late on Monday and rangers are preparing to search the waterways by boat through the night again. Flooding due to the local monsoon season is complicating the search by widening the waterways.
Rangers are permitted to shoot any crocodile longer than six and a half feet spotted in the Mudginberri Outstation. Sgt. Stephen Constable warned visitors not to swim in the area. "Crocodiles are prevalent in these waters and you always have to be careful," Constable told Sky.
A spokesman for the park said the area was well-marked with signs warning visitors against swimming due to the crocodiles.
Saltwater crocodiles are a common feature in the tropical north of Australia and can grow to more than 22 feet long. Government estimates suggest they number between 75,000 and 100,000.
If the boy is confirmed dead, Sunday's attack would be the eleventh fatality recorded in the past year in the area.