Al Qaeda leader behind Charlie Hebdo claim killed by drone strike
A top leader of Al Qaeda in the Arabian Peninsula, who appeared in a video in which he claimed the terror group was behind the Charlie Hebdo attack in Paris, was killed in a U.S. drone strike, according to analysts who monitor web chatter from the jihadist organization.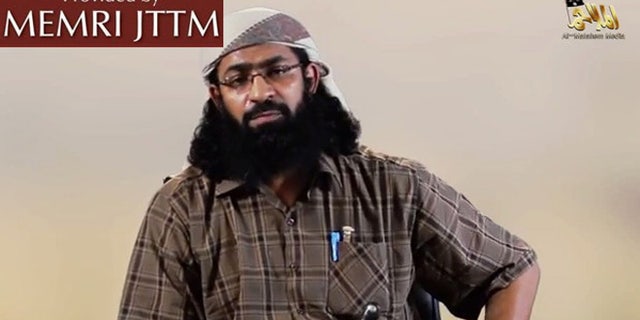 The Middle East Media Research Institute (MEMRI) said a video message released by AQAP announced the death of Yemeni-born Nasser bin Ali al-Ansi. The statement came from Khalid Batirfi, the former AQAP operative who was recently freed during a prison break in Al-Mukalla, Yemen.
Further details of the drone strike were not immediately available.
In January, Al-Ansi said that AQAP was responsible for the attack on the offices of the French satirical newspaper. A total of 16 people were killed in the attack and related incidents over three days.
"As for the blessed Battle of Paris, we…claim responsibility for this operation as vengeance for the Messenger of God,"al-Ansi , said in the recording. "[The] one who chose the target, laid the plan and financed the operation is the leadership of the organization."
He also said on the video that the attacks were carried out in "implementation" of an order by Al Qaeda's overall leader, Ayman al-Zawahri, who called for strikes by Muslims in the West using any means available.
AQAP was the first to use English publications to reach out to supporters in the West, with the launch in 2010 of its English-language magazine, Inspire. The online magazine featured commentary by a radical U.S.-born cleric, Anwar al-Awlaki, who was also killed in a U.S. drone strike in Yemen in 2011.
Pentagon Secretary Ashton Carter declined to comment on the report when asked abut it Thursday.