Aaron Hernandez's Girlfriend Wants Perjury Charges Against Her Dropped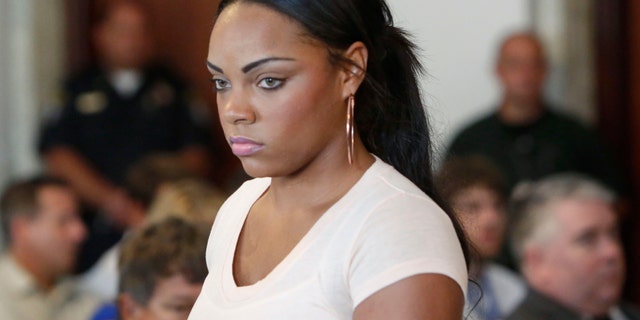 The girlfriend of former New England Patriots tight end Aaron Hernandez wants perjury charges against her dropped, her lawyer said Monday.
The charges are connected with the murder case against Hernandez.
Defense attorney Janice Bassil said during a brief proceeding in Fall River Superior Court that she intends to file motions to dismiss the charge brought against Shayanna Jenkins.
"I just don't see the evidence supporting these charges," Bassil said in brief comments outside the courthouse.
Bassil also asked the judge for more time to review discovery materials in the case, and the judge allowed it.
Jenkins has pleaded not guilty to a count of perjury related to her testimony before the grand jury that indicted Hernandez last year and is free on personal recognizance. She did not appear in court Monday.
Hernandez, who grew up in Bristol, Conn., is accused of killing semi-professional football player Odin Lloyd, a Boston resident who was dating Jenkins' sister. He has pleaded not guilty and is being held without bail.
Prosecutors say Jenkins repeatedly lied in testimony last summer, including about getting rid of a box from the basement of her and Hernandez's North Attleborough home at his request. They say Jenkins told grand jurors she couldn't recall where she threw out the box, which she put in a trash bag along with baby clothes. It's unclear what the box contained.
Jenkins was granted immunity before she testified.
Bristol County Assistant District Attorney William McCauley told the court in November that most of Jenkins' testimony was "not credible" and that she aimed "to protect, to cover up and to assist in keeping evidence from our reaches."
Bassil said outside court Monday that Jenkins has been to the jail to see Hernandez, with whom she has a 1-year-old daughter.
"It's hard," she said. "She's home with her baby, and she's focused on her baby as always."
The judge scheduled a telephone conference in Jenkins' case for late next month.
Based on reporting by The Associated Press.
Follow us on twitter.com/foxnewslatino
Like us at facebook.com/foxnewslatino