A guide to fast-moving events in Iraq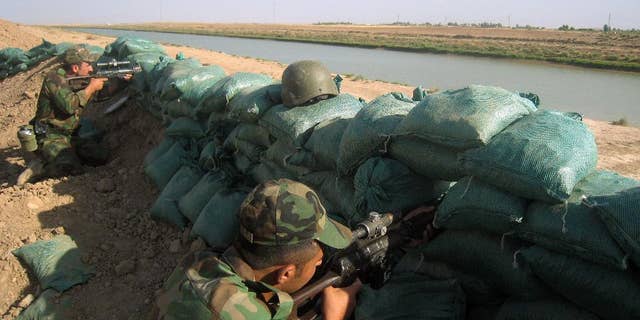 BAGHDAD – The crisis in Iraq is increasingly taking on a political tone as calls are growing for Prime Minister Nouri al-Maliki to step down. The Shiite leader, who faces criticism that his failure to promote reconciliation among the country's myriad religious sects sparked the widespread Sunni anger that has emboldened the al-Qaida breakaway group that has overtaken large sections of northern territories. Iraq's Shiite spiritual leader Ali al-Sistani, an Iranian-born cleric who has been unusually active with recent pronouncements made via intermediaries, called for "an effective government that enjoys broad national support." The U.S. also has found itself drawn back into the country, with President Barack Obama announcing plans to dispatch up to 300 military advisers to help quell the insurgency.
A guide to the events that unfolded Friday:
POLITICAL MANEUVERING
Al-Sistani's call for an "effective" government increases the pressure on al-Maliki a day after President Barack Obama called on Iraq's longtime leader to create a more inclusive leadership or risk a civil war. Iraq's recently elected parliament must meet by June 30 to elect a speaker and a new president, who in turn will ask the leader of the largest bloc to form a new government within 15 days. Al-Maliki has been doing the prime minister job in a caretaker capacity since the April 30 election. While it is far from certain he would step aside, if he were to relinquish the leadership post, according to the constitution, the president assumes the job until a new prime minister is elected. Names raised as possible replacements are Adel Abdul-Mahdi, a former vice president; Ayad Allawi, a secular Shiite who served as Iraq's first prime minister after Saddam Hussein's ouster in 2003; Bayan Jabr, a former finance and interior minister under al-Maliki's tenure; and Ahmad Chalabi, a Shiite lawmaker who recently joined the Supreme Council and was once a favorite in Washington.
US INVOLVEMENT
Obama has ordered 300 special forces soldiers to advise joint operations in and near Baghdad, marking the first return of a U.S. fighting force since the military left Iraq in 2011 after a war that killed nearly 4,500 American troops and more than 100,000 Iraqis. The White House has not ruled out airstrikes, but it is reluctant to use them. U.N. Secretary-General Ban Ki-moon also has warned against airstrikes, saying they could be ineffective and backfire. The special forces will join about 275 U.S. troops that were deployed this week to protect the American Embassy in Baghdad. Obama said they won't be involved in combat. Instead they will advise Iraqi military command centers and brigade-level headquarters in the Baghdad area. Much of their mission is to identify security gaps and assess whether more U.S. troops will be needed to help foster stability. American aircraft will conduct surveillance patrols over areas where the Sunni militants are active. Secretary of State John Kerry is heading to the Mideast this weekend to discuss Iraq's stability. The U.S. also is seeking legal protections for troops heading to Iraq that were rejected by al-Maliki's government in 2011.
ON THE DIPLOMATIC FRONT
Russian President Vladimir Putin expressed Moscow's support for the Iraqi government in a telephone conversation with al-Maliki. The Kremlin said in a statement that al-Maliki informed Putin on Friday about his government's steps to combat the "terrorist groups in the north of the country." It added that the insurgency threatens security of the entire region. Putin confirmed Russia's "full support for the Iraqi government's action to quickly free the territory of the republic from terrorists," the Kremlin said, adding that Putin and al-Maliki also discussed bilateral cooperation. The U.N. secretary-general urged Iraq's feuding communities to unite against the militants who have captured a vast swath of territory. Ban also called on the Iraqi government and its supporters not to retaliate against Sunni communities in revenge for "barbaric attacks" by the Islamic State of Iraq and the Levant. Turkey, meanwhile, said four of its citizens who were abducted by militants in Mosul have been freed but some 80 others are still held captive.
BATTLE ACTION
Fighters from the Islamic State of Iraq and the Levant stormed the Syrian town of Muhassan and two nearby villages just 100 kilometers (60 miles) from the Iraqi border, another victory in their efforts to carve out a large region straddling the two conflict-ridden countries. Sunni militants also battled Iraqi security forces for a fourth day for control of the Beiji oil refinery, a sprawling facility northeast of Baghdad. Attack helicopters are supporting the government troops.