80,000 pray at Al-Aqsa on first Friday of Ramadan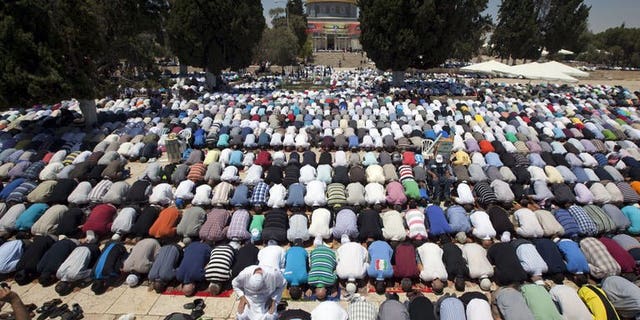 JERUSALEM (AFP) – About 80,000 Muslims attended prayers at Jerusalem's Al-Aqsa mosque compound on the first Friday of the Muslim fasting month of Ramadan, Israeli police said.
"There were close to 80,000 worshippers," police spokesman Micky Rosenfeld told AFP.
There was a peaceful show of support for ousted Egyptian president Mohamed Morsi and against army chief Abdel Fattah al-Sisi.
Women held Palestinian and Egyptian flags and signs reading, "Sisi go! Morsi is the president" and "Jerusalem is for legitimacy and against the coup".
More than 3,000 Israeli police were deployed in the walled Old City, where the compound is located, and elsewhere in occupied east Jerusalem.
Israeli authorities relaxed usual restrictions on entry to Jerusalem by West Bankers but limited entry by men to the Al-Aqsa compound to those over 40 years of age.
The site houses the Dome of the Rock and the Al-Aqsa mosque, the third holiest site in Islam.
In a Ramadan concession, the military extended the opening hours of crossing points from the West Bank and allowed those aged 60 and over to pass without the usual mandatory entry permit.
Palestinians from the West Bank and the Gaza Strip are usually barred from Israel and from east Jerusalem, which the Jewish state occupied in the 1967 Six-Day war and then unilaterally annexed.