50 ISIS sympathizers working at Brussels airport, warns police union
As many as 50 ISIS supporters have infiltrated the same Brussels airport where terror attacks occurred last month, working as cleaners, caterers and baggage handlers and positioning themselves for new attacks, the Belgian police union warned in an open letter to the government.
"Even today, there are at least 50 supporters of ISIS who work at the airport," read the letter from union secretary Alain Peeters to the Belgian Interior Ministry and reported by the Daily Mail. "They have a security badge and have access to the cockpit of a plane."
Brussels Airport, also known as Brussels-Zaventem Airport, handles more than 23 million passengers per year in the European Union capital. It is still shut down following the March 22 bombings, in which three Islamists fanatics set off suitcase bombs in attacks coordinated with a metro bombing just over an hour later. Some 35 innocent people were killed, and at least one bomber from the airport remains at large.
"Even today, there are at least 50 supporters of ISI who work at the airport."
The development followed a claim by an ISIS operative in the Gaza Strip that the black-clad terrorist army has terror cells in place at airports around the world. ISIS claimed credit for a bombing that took down a Russian passenger plane last Oct. 31, killing 224. The plane, which fell into the Sinai Peninsula en route from the resort area of Sharm al-Sheikh to St. Petersburg, is believed to have been downed by a bomb placed by an airport worker sympathetic to ISIS.
The Belgian police union, known as the NSPV, had raised concerns about security issues at the airport as early as March 18, four days before the attack. Now, police insist they will not return to work unless their numbers are beefed up and a checkpoint keeping vehicles at least 100 yards away from the check-in area is built.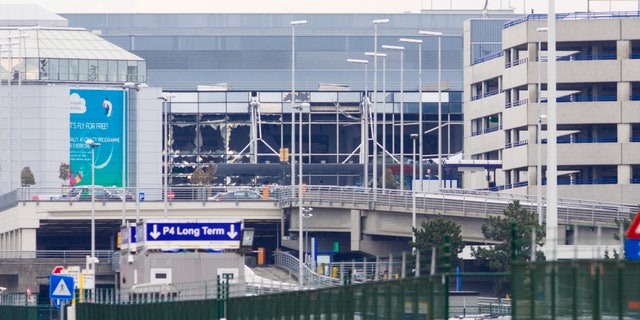 Plans to partially reopen Brussels airport on Friday evening were scrapped when airport police refused to go back to work over security concerns.
"The NSPV notes that the political government is looking for a scapegoat in connection with the attacks in Zaventem," the union said in a statement last week. "As a trade union we can only be outraged about this state of affairs. [We are] heartbroken to establish that police would be pilloried without any kind of defense."
Belgium's prime minister and key members of the government were meeting Friday to discuss when to reopen the airport, according to The Associated Press.
Airport chief Arnaud Feist told RTBF state broadcasting that temporary repairs that have been completed at the airport will allow it to process 800 passengers an hour -- only a fifth of its original capacity.

An uncle of Ibrahim and Khalid el-Bakraoui, two of the bombers killed in last month's attack, told the Daily Mail last week that the brothers had worked at the airport in years past, and knew their way around it.
"They worked cleaning at the airport and in a restaurant," the man said. "They didn't finish high school in the end. They cleaned the airport in the summer months."