22 dead in attacks on Kenyan coast, Red Cross says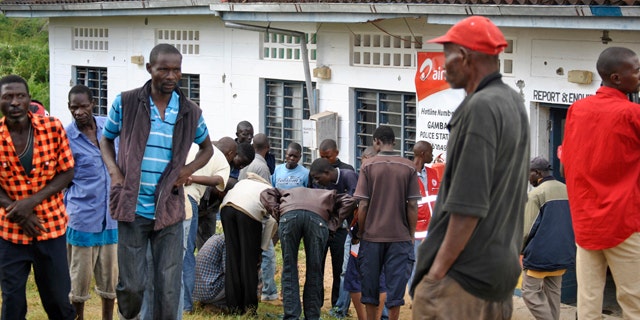 NAIROBI, Kenya – Twenty-two people were killed in overnight attacks by gunmen in two counties on the Kenyan coast, where Al Qaeda-linked militants last month claimed responsibility for killing 65 people, the Kenya Red Cross said Sunday.
The Saturday night attacks took place in the towns of Hindi in Lamu county and Gamba in Tana River, Kenya Red Cross chief Abbas Gulet said. Al Qaeda-linked al-Shabab militants from Somalia claimed responsibility for the attacks.
According to the Lamu county commissioner Njenga Miiri, a group of about 15 gunmen raided the Malamandi village of Hindi and started shooting at residents. The gunmen also attacked Gamba police station, Kenya's police chief David Kimaiyo said.
Hindi is about 25 miles north of Mpeketoni where dozens were killed in an attack last month, while Gamba is about 43 miles northwest of Mpeketoni.
Police said 13 people were killed in Hindi, while in Gamba nine others were killed and one person was missing.
The nine victims in Gamba included five inmates said to be non-Muslim, who were killed when the gunmen attacked the police station, said a senior police officer who insisted on anonymity because he was not authorized to speak with the media. Three other inmates escaped with the gunmen.
The officer said the gunmen got to the police station by car-jacking a truck and killing its three occupants. Five police officers were wounded in the attack and one officer was killed, he said.
Kenya has suffered a spate of gun and explosive attacks since deploying its troops in Oct. 2011 to fight al-Shabab militants.
Al-Shabab claimed responsibility for an attack last month on the town of Mpeketoni on the Kenyan coast and another attack the following day on a nearby village. Despite that, Kenyan President Uhuru Kenyatta and the interior minister have blamed local political networks for those attacks and said they were planned locally -- assertions that have been met with skepticism.
Late last month police arrested Lamu Governor Issa Timamy and charged him for murder, forceful eviction of population and terrorism charges in connection to the Mpeketoni attacks.
The attacks come as tensions continued to rise in the country over a planned mass protest by the opposition on Monday to urge the government to convene national talks over topics including security, increasing costs of living, corruption and the disbandment of the electoral authority.
Church leaders have warned Monday's planned protest could further split the country along tribal lines.