Rare winter storm brings snow to Arizona desert, as Midwest, Northeast avoid deep cold
Let it snow, even in the desert.
A rare winter storm dropped several inches of snow on cactus in the Arizona desert Wednesday, causing many schools and government agencies to shutter for the day.
"It was pretty magical," Jessica Howard, a resident of the Tucson suburb of Vail told the Associated Press. "My social media feeds are like 100 percent snow pictures right now."
CLICK HERE TO GET THE FOX NEWS APP
The Tucson area saw up to 6 inches of snow while Nogales, an Arizona city on the Mexico border, received a similar amount. Temperatures also dipped below freezing for the first time in four years, and were expected to remain through Thursday.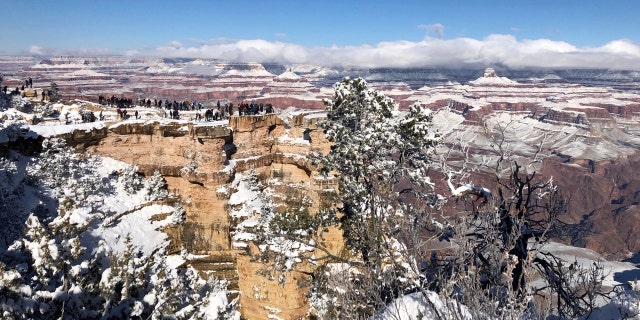 Travelers driving along Interstate 10 in the southern part of the state told Tucson News Now they were surprised to encounter snow.
"I certainly wasn't expecting this," said Roger Cannon, who was driving home to Texas from California. "I woke up and put on shorts today. We aren't very good in snow to be honest."
POLAR VORTEX MAY BE ON THE HORIZON, SCIENTISTS WARN
The cold weather and snow are "quite uncommon" for the area, said Glenn Lader, a National Weather Service meteorologist in Tucson.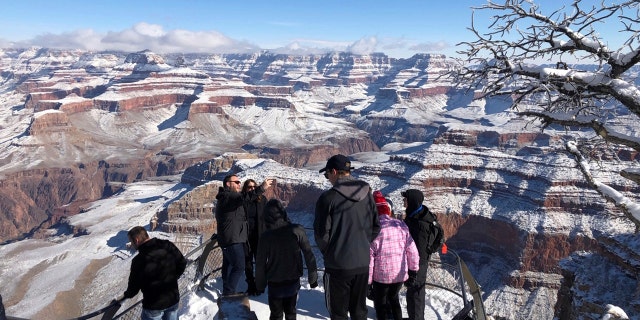 Snow dusted cactus and mountains in southern Arizona and covered the Grand Canyon in the north.
The storm also brought heavy snow and icy roads eastward into New Mexico, causing accidents and school closures in the Albuquerque area.
Alaska, Midwest, and Northeast avoid brutal cold
As the desert West was blanketed in white, a change in the jet stream has pumped in warmer air to places one would normally expect to be frozen.
Temperatures in Anchorage, Alaska reached 42 degrees on New Year's Day after a December in which over 32 inches of snow fell at the end of the month. More seasonable weather was expected to arrive by the end of the week.
The first half of January across most of the country is expected to remain mild, with no major cold outbreaks expected.
The National Oceanic and Atmospheric Administration's 6-to-10-day temperature outlook shows that mild conditions are expected across most of the country through Jan. 12, with the exception of upstate New York and northern New England.
The Associated Press contributed to this report.