Wreckage of small plane found in San Francisco Bay, pilot missing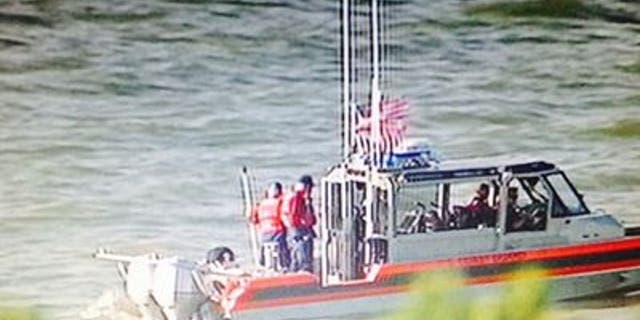 Authorities have located the wreckage of a small plane that crashed into San Francisco Bay after colliding with another aircraft while heading home from an air and auto show.
Contra Costa County sheriff's spokesman Jimmy Lee told The Associated Press that crews located the Cessna on Monday but could not immediately say whether the pilot was also found.
The collision Sunday afternoon near the Richmond-San Rafael Bridge involved a single-engine Cessna 210 and a single-engine Hawker Sea Fury TMK 20, Federal Aviation Administration spokesman Ian Gregor said.
The Cessna went into the bay, and the Sea Fury's pilot was able to land 40 minutes later at Eagle's Nest Airport in the small Northern California city of Ione, Gregor said.
Amador County firefighters and medics sent to the Ione airport were not needed because the pilot and passenger in the Sea Fury -- a husband and wife -- were not injured, county Undersheriff Jim Wegner said.
The names of the pilots haven't been released. The National Transportation Safety Board is investigating.
Search teams found no signs of the downed pilot after scouring San Pablo Bay through the night, Coast Guard Petty Officer Loumania Stewart said early Monday. She said there were no immediate plans to suspend the search.
Both planes had departed from Eagle's Nest Airport to participate in the Pacific Coast Dream Machines, an annual festival at Half Moon Bay Airport that features a variety of planes, motorcycles and cars. Both planes left Half Moon Bay, about 20 miles south of San Francisco, and were on their return flight to Ione.
Witnesses at Point San Pablo Yacht Harbor told the San Francisco Chronicle that the Cessna spiraled out of control and crashed into the choppy water.
Debris was found in the bay after the collision, Stewart said.
Wegner wouldn't discuss damage to the Sea Fury, citing the ongoing investigation by the FAA and the National Transportation Safety Board.
FAA records indicate the Sea Fury, a vintage British fighter plane, is registered to Sanders Aeronautics Inc. in Ione. A man who answered the phone at the company's listed number declined to comment.
Sanders Aeronautics' website said the family-run company specializes in aircraft restoration, and brothers Dennis and Brian Sanders are avid air racers.
The Associated Press contributed to this report.