Wisconsin Supreme Court sides with conservative professor disciplined over blog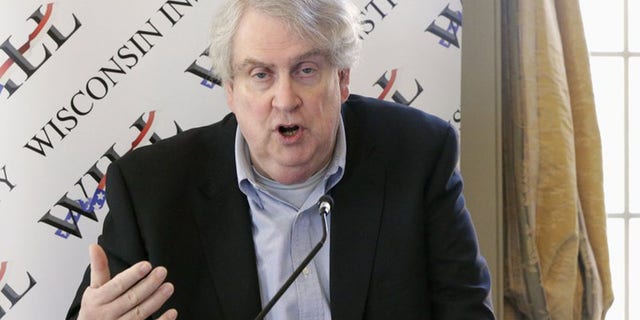 A conservative political science professor who sued Marquette University after the Milwaukee Jesuit school suspended him for blogging about gay marriage won his case Friday in the Wisconsin Supreme Court.
The high court ruled that Marquette University should immediately reinstate former political science professor John McAdams, finding that the college failed to give him the academic freedom he is guaranteed under his contract.
The court's conservative majority opinion ruled the private university's faculty panel exhibited "unacceptable bias" when it suspended him, and eventually stopped paying him. The liberal justices disagreed, saying in the minority opinion that academic freedom "does not protect McAdams from discipline."
The university had argued McAdams was not suspended for the content of his 2014 post, but because he named an instructor and linked to her personal website. That instructor, a graduate student, received a barrage of hateful messages and threats after he posted her information.
"A tenured faculty member put a graduate student's name and link to her contact information on the Internet so that people could go after her," said Marquette attorney Ralph Weber. "That's not academic freedom – it's cyberbullying,"
The ruling has been eagerly awaited by conservatives, many of whom see universities as liberal hotbeds. It was also closely followed by private businesses that exercise control over employee discipline.
In the 2014 post that got McAdams in trouble, he discussed an incident involving a conservative student who recorded a graduate student instructor of philosophy. That instructor allegedly shut down any oppositional speech against gay marriage and suggested the student drop the class because of his views.
McAdams, who called himself a "whistleblower" at Marquette, said it was just another example of liberals trying to silence those they disagree with and then he linked to the instructor's personal website. She received so many threats that the university decided to post a security guard outside of her classroom. The graduate student eventually moved to another university, where she had to repeat three semesters and revise her doctoral thesis.
"Had he written the exact same blog post and not included the student-teacher's name and contact information he would not have been disciplined," Weber argued. "He's being disciplined for his conduct, not any viewpoint."
But McAdams' attorney, Rick Esenberg, said all he did was link to publicly available information.
McAdams said he will continue to write blogs that expose misconduct at the school but will only do so "in extreme cases… when I can source it properly."
McAdams warned that he "might embarrass people by revealing things they don't want revealed."
Marquette initially told McAdams he could return to work after his suspension if he wrote a letter to the instructor apologizing for his conduct. But he refused to do so.
The college will not appeal the decision and will reinstate him as a professor and pay him for the years he was out of work.
University officials pointed out that a panel and a circuit judge agreed with them -- but they said they would respect the high court ruling.
"To us, it was always clear that the professor's behavior crossed the line. This was affirmed by a seven-member panel of the professor's peers, and by a Wisconsin Circuit Court judge," the university said in a statement. "However, in light of today's decision, Marquette will work with its faculty to re-examine its policies, with the goal of providing every assurance possible that this never happens again."
McAdams said he is eager to return to the classroom.
The graduate student instructor, who's not being named due to the threats she received, could not be reached for comment.