Washington serial home intruder arrested; police seek to identify other victims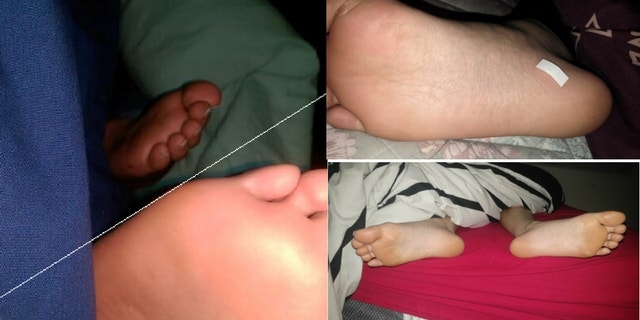 Washington state police are seeking to identify photos of three pairs of feet that were found in the home of a man who was arrested last month for allegedly breaking into women's residences to watch them sleep.
Chase Garner, 22, was arrested on April 28 and charged with 20 counts in connection with the string of break-ins in Mason County over the last several months, Q13 Fox reported.
Garner allegedly broke into the homes, watched people sleep and occasionally stole items such as underwear, firearms and photos. Officers found many of these "souvenirs" at his home when he was arrested.
ARIZONA WOMAN ACCUSED OF SUBSTITUTING FLOUR FOR INFANT FORMULA
Authorities released three photos of different pairs of feet on Sunday in an effort to identify potential victims. The pictures were captured while the victims appeared to be asleep.
Detectives discovered there were at least least six similar break-in incidents after a woman, identified as Jerica Northness, reported to police that she woke up to find a man watching her and her boyfriend sleep.
"You just feel violated," Northness told Q13 Fox in April, adding that the man, allegedly Garner, also had a phone in his hand.
"There's definitely is a chance that maybe I wasn't fully covered up all the way and it just gave him something else to want to look at."
Days later, police identified Garner as the suspected serial intruder. Garner later told detectives that he knew most of the women through work or found them on social media. He targeted one woman after reading her social media posts, police said.