Washington Police Release New Photos of Missing 2-Year-Old Boy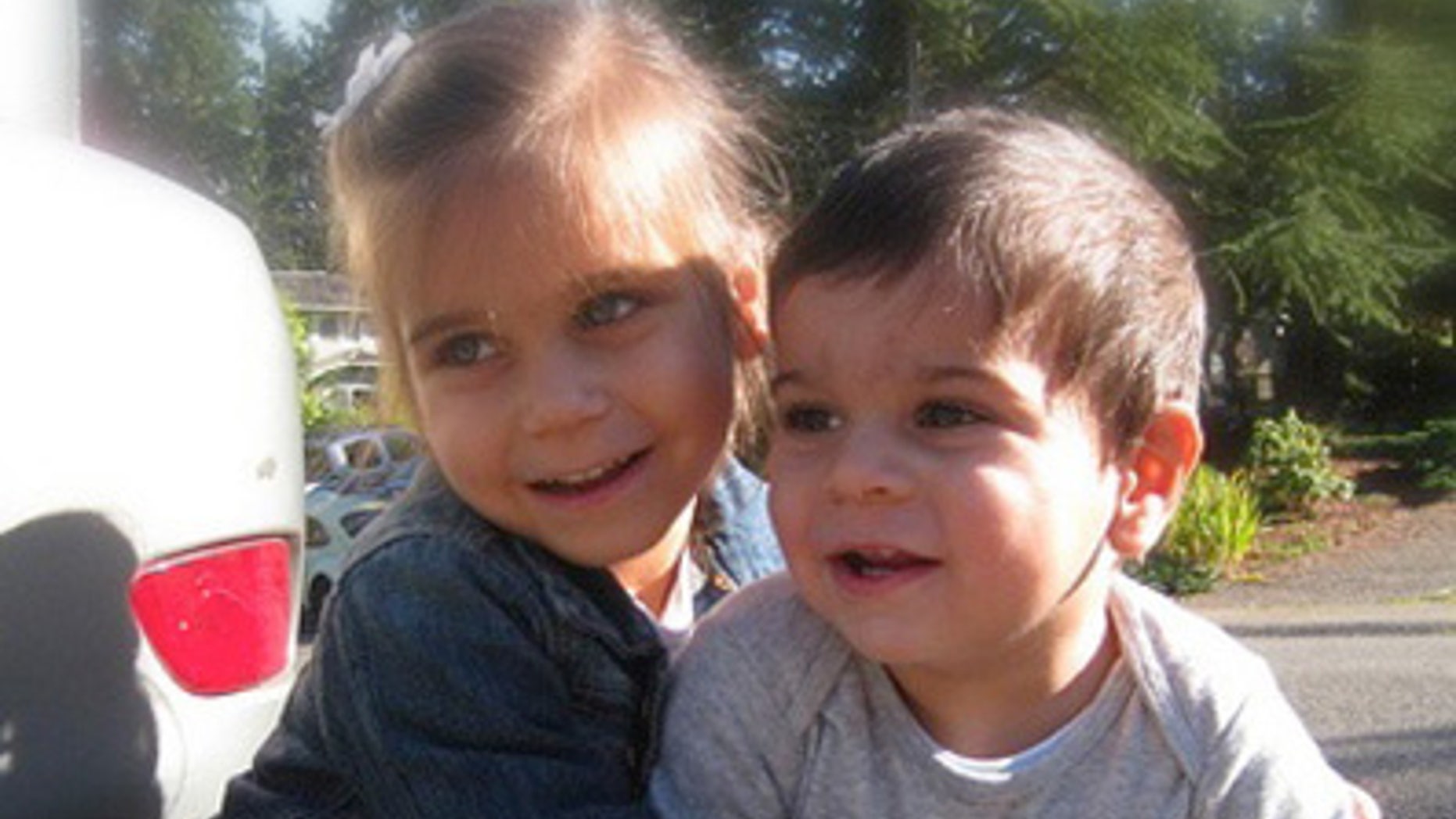 Washington police have released more photographs of a 2-year-old boy -- who his mother says disappeared after she left him in a car -- hoping to generate more tips on his location.
Bellevue Police Maj. Mike Johnson said Friday that authorities have received 1,200 tips so far in the case. Investigators have searched the area where Sky Metalwala disappeared and re-interviewed individuals, but have not been able to locate the boy, MyFoxSpokane reports.
The photos released also include Sky's mother, Julia Biryukova, inside several local stores.
From the moment Sky was reported missing 11 days ago, police had serious questions about his mother's story that she left him alone in an unlocked car after running out of gas.
The case has become even stranger since.
For starters, Biryukova's car had plenty of gas and was running fine, police determined. She had told them it stalled as she was driving her 2-year-old son to the hospital because he wasn't feeling well, and that she left him inside as she and the boy's sister spent an hour walking to a gas station and calling a friend for help.
Biryukova's estranged husband — the two are in a bitter divorce and custody fight — said her story was full of holes and bore similarities to a recent episode of her favorite show: "Law & Order: Special Victims Unit." He also claimed in divorce documents that Biryukova had dreamt of strangling the boy.
Police were also looking into whether Biryukova was a member of an online dating service that connects women with "sugar daddies."
It all adds up to an unusual story that has become a top priority for authorities in Bellevue, just east of Seattle, and provided plenty of fodder for cable TV news in the past two weeks.
Biryukova has refused to speak with detectives since the day of the disappearance, but she did acknowledge she sometimes left her children alone for extended periods, police say.
Nevertheless, detectives have yet to arrest the 30-year-old Ukrainian immigrant for any crimes they might be able to pin on her, such as making a false police report or recklessly endangering the boy. By giving her some space, they say, they hope to encourage her to cooperate beyond the limited help she's given.
It's unclear how much longer that deference might last. Bellevue Police Maj. Mike Johnson said this week investigators still consider the disappearance a missing person case, not a criminal matter, and they haven't been able to rule out anything regarding Sky's disappearance: Is he alive, secreted away with a relative somewhere? Was he kidnapped by a stranger? Is he dead, by force or neglect?
"It's a fair question — why after 10 days are all these theories still viable options?" Johnson told a news conference Tuesday. "We have sufficient resources to be looking at all of these theories. None of the evidence we've gathered has ruled out one or the other or pointed strongly in one direction or another."
According to police, Biryukova told them Sky vanished in Bellevue the morning of Nov. 6. After running out of gas, she and her 4-year-old daughter walked to a gas station, she said. And when they returned to the car — having been picked up by a friend — the boy was gone. It was the friend who called 911.
Investigators aren't sure the boy was in the car that morning, but Sky's older sister told them he was — which was not what they expected to hear from her, Johnson has said. They're not sure if she was coached.
Biryukova has not returned messages seeking comment from The Associated Press. The only thing her divorce attorney, Veronica Freidas, has said publicly is that her client won't take a polygraph test because they're unreliable and she's too emotionally devastated. By Tuesday, Freidas was no longer accepting phone messages from reporters, her office said. A criminal defense attorney for Biryukova, Robert Flennaugh II, said only that he does not comment on pending cases.
Johnson said investigators have looked into similarities between Biryukova's story and the "Law & Order" episode that aired in mid-October. The plot involved a mother trying to cover up her infant's death by reporting that her car — with the baby inside — was stolen while she went into a store. The woman later drew police a map of a beach where the child was buried in the sand.
Detectives have also questioned the owner of the online dating service SeekingArrangement.com, about a profile that was created in July using Biryukova's pictures and listing her as a "sugar baby" seeking a "real man," Seattle's KING-TV reported. It couldn't immediately be confirmed whether Biryukova or someone else set up the profile.
Police say Biryukova spoke with investigators the day Sky was reported missing, and that she acknowledged a history of leaving her children alone, sometimes for what Johnson characterized as extended periods. Biryukova and her husband, Solomon Metalwala, were cited in 2009 for leaving Sky sleeping in their sport utility vehicle in a Target parking lot in Redmond for 55 minutes. They came out to get him only after police arrived and asked the store to page the vehicle's owner.
The week before Sky disappeared, Biryukova and Metalwala were joined by their attorneys in a grueling 12-hour mediation session that resulted in an agreement that would grant Metalwala some visitation rights with the children. Police say they have investigated reports that Biryukova left the children at home alone during the session, but they haven't revealed what they learned.
Two days after the mediation session, Biryukova sent word to Metalwala's lawyer that she was pulling out of the agreement, and two days after that, Sky was reported missing.
Police and volunteers have searched the neighborhood where he was reported missing, as well as the area around Biryukova's apartment complex and a popular nearby park, to no avail.
Investigators also searched Biryukova's apartment and car — both with her consent, police said.
Sky's father has passed out fliers and voluntarily took polygraph examinations, as did some of his relatives. He warned in a court declaration early this year that his estranged wife's mental health issues were endangering the children. She alleged that he was domineering and abusive.
Papers filed in the divorce say Biryukova suffers from severe obsessive-compulsive disorder. They also say she was involuntarily admitted to a psychiatric facility after she acknowledged to two Redmond police officers that she thought about killing herself, and the only thing that stopped her was her Christianity: She did not want to commit a sin.
A doctor reported that her diagnosis did not interfere with her ability to care for the kids. But Metalwala wrote in a declaration filed last January that Biryukova frequently would go on 10-hour cleaning binges during which she wouldn't feed the children, and that she refused to keep food in the house. Metalwala wrote that he would have to leave the store he owned in Seattle's Pioneer Square to rush home and take the children to a supermarket to feed them.
That wasn't the worst of it, he wrote. By early 2010, she "was like a prisoner who locked herself into a cell block," refusing to leave the home.
"She began to have dreams about killing our children, even telling me of her dreams about strangling our youngest child," he wrote in the January filing.
In an earlier declaration seeking custody of the children, Biryukova wrote that taking care of the children had been a "top priority from day one."
"I feel that as their mother my instincts as to their needs would be difficult to match," she wrote.
The Associated Press contributed to this report.