Virginia teen earns master's degree weeks before graduating high school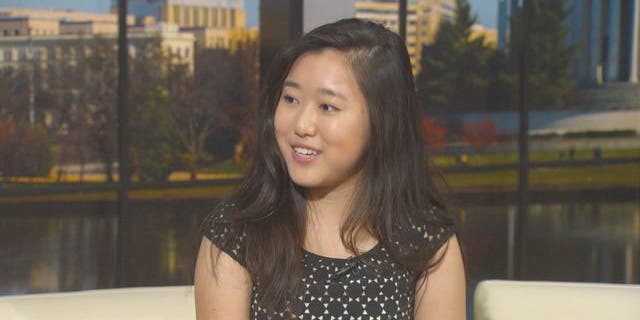 A Virginia whiz kid received her master's degree on Saturday before she is set to graduate high school.
Stephanie Mui, 17, of Fairfax, Va., received a master's degree in mathematics from George Mason University on Saturday and, according to the school, was the youngest among more than 8,700 graduates at the spring commencement.
"As a student she is sharp, very sharp. She impresses everyone," said Sean Lawton, an associate professor at George Mason who taught Mui. "As a human, she is mature, polite, observant and careful. She works hard and does not give up."
Next month, Mui will graduate from Oakton High School in Fairfax County. In the fall, the teen plans to attend New York University as a doctoral candidate where she received a full research fellowship.
Mui, whose parents are engineers, said math comes naturally to her. Mui said she was debating geometry proofs with her father while she was in the first grade, according to George Mason University.
FATHER, SON GRADUATE FROM WILLIAM PATERSON UNIVERSITY TOGETHER
In fourth grade, she passed the College Board's College-Level Examination Program (CLEP) for calculus, which "covers skills that are usually taught in a one-semester college course," according to the College Board's website.
Mui began taking college classes after the fifth grade. She started at Northern Virginia Community College where she received her associate's degree at age 13.
After community college, Mui enrolled at George Mason, which touts itself as Virginia's largest public research university. She earned her bachelor's degree in mathematics from the university last year.
YOUNGEST TEXAS CHRISTIAN UNIVERSITY GRAD SAYS HE HAS NO REGRETS AT ALL
Mui was worried that the students at George Mason would treat her differently because of her age.
"I didn't try to hide it," Mui told Fox 5, "I just never brought it up. But if people ask, I tell them."
She said she has no regrets.
"I'm really glad I did it," Mui said of her educational journey. "I like being challenged."