Video appears to show Texas sheriff's deputies fatally shot man who had his hands up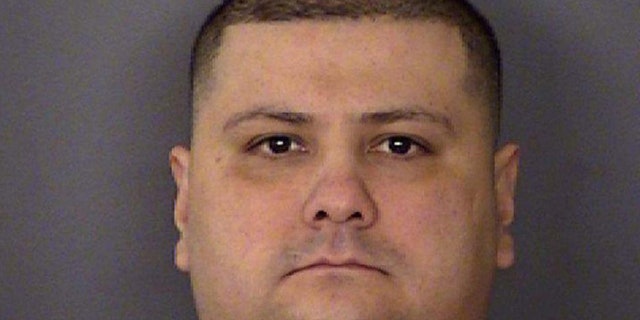 NEWYou can now listen to Fox News articles!
Video showing a man who had his hands up moments before he was fatally shot by Texas police on Friday is igniting a debate about what actually happened in the footage and if it should have been shown at all.
A San Antonio TV station broadcast footage on Monday appearing to show the man, Gilbert Flores, during an armed encounter with deputies. Authorities say the shooting happened after Flores resisted arrest and nonlethal weapons failed to bring him under control.
Flores, 41, died shortly after the shooting, the Bexar County Sheriff's Office said in a statement Monday.
Deputies Greg Vasquez and Robert Sanchez were responding to a domestic disturbance and found a woman with a cut on her head and a baby who appeared injured, according to the statement.
"Certainly what's in the video is a cause for concern, but it's important to let the investigation go through its course"
The deputies encountered Flores, who was armed, and attempted to arrest him, the sheriff's department said. The statement didn't say what type of weapon Flores had.
After Flores resisted, the deputies used nonlethal weapons in an attempt to detain him, but when "those efforts failed," they shot him, according to the statement.
The video, taken by a bystander and obtained by KSAT-TV, appears to show Flores standing still with his arms raised. Flores appears to quickly bring his hands back down just before the shots are heard. The video doesn't include audio of deputies' commands or Flores' response, and the scene is partially obscured by police vehicles and passing cars.
Moments later, deputies drag and flip Flores onto his stomach. About a minute and a half later, an ambulance arrives.
The deputies, who had both been with the sheriff's office for more than 10 years, have been placed on standard paid administrative leave. The sheriff's department is investigating and has said the officers were not wearing body cameras.
"Certainly what's in the video is a cause for concern, but it's important to let the investigation go through its course so that we can assure a thorough and complete review of all that occurred," Sheriff Susan Pamerleau said at a news conference Friday. But her office later criticized the release of the video as "unethical" and "sensational."
"Broadcasting a man's death for $100 has sparked threats to our deputies' lives," the Bexar County Sheriff's Office tweeted Monday.
The department Twitter account later appealed for calm in a series of tweets: "In regards to the deputy involved shooting, we're asking for calm and patience. We are diligently working to complete the investigation so we can move to the next step. We want to get this right for the Flores family, our deputies and our community."
The sheriff's office wrote on Facebook: "These deputies have not been charged with a crime and a family lost their loved one."
A woman at the residence where the shooting took place declined a reporter's questions Monday, referring him to San Antonio attorney Thomas J. Henry, who did not immediately return phone calls seeking comment.
The Associated Press contributed to this report.