Victims of mass shooting at Dallas Cowboys watch party identified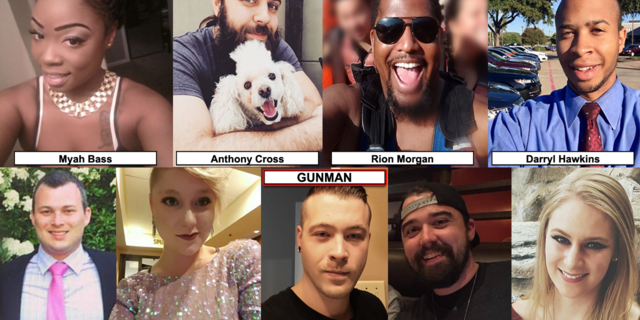 Police in Plano, Texas on Tuesday identified the gunman and victims in Sunday's deadly shooting at a Dallas Cowboys watch party.
Police confirmed that the gunman was Spencer Hight, 32, and that one of the victims was his estranged wife, Meredith Hight, 27.
Witnesses say Spencer showed up to the house party and got into an argument with Meredith out front. He then went inside with her and opened fire as partygoers watched the Cowboys' season-opening game against the New York Giants.
The other victims have been identified as Anthony Michael Cross, 33; Olivia Nicole Deffner, 24; James Richard Dunlop, 29; Darryl William Hawkins, 22; Rion Christopher Morgan, 31; Myah Sade Bass, 28; and Caleb Seth Edwards, 25.
"I can't even believe this guy did this," Kenda Grand, whose son was friends with victim Tony Cross, told Fox 4 News. "It's hard to wrap your head around it and I heard about it and the last thing I thought was I would know somebody."
Grand said her son had been friends with Cross since they were both two years old.
"His brother wrote 'rest in peace Tony Cross' and I thought, 'What happened?'" Grand said. "I got a hold of his brother on Facebook and he told me what happened and I was like, 'Oh my God, no.'" Grand said.
Texas Rangers and Plano police detectives spent all day Tuesday processing the home and backyard, but released no new details of the case -- including any evidence they may have collected from Spencer Hight's nearby apartment.
Investigators say that each victim is being considered a personal crime scene, requiring extensive resources and painstaking work. Some of the victims' vehicles were still parked outside Meredith Hight's home, leaving detectives to cover up the license plates.
Click for more from Fox4News.com.