US National Guard Helicopter Crashes in Puerto Rico, 6 Feared Dead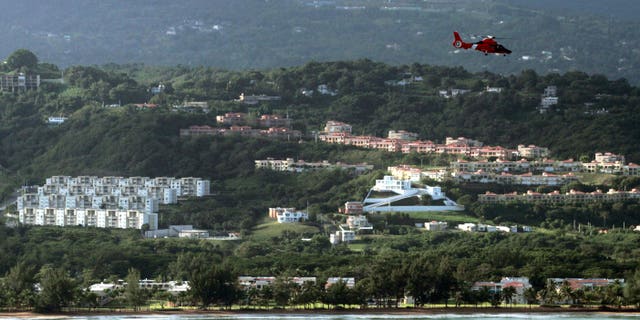 NEWYou can now listen to Fox News articles!
SAN JUAN, Puerto Rico -- A Puerto Rico National Guard helicopter crashed in the ocean while en route to a drug raid. The body of one of the six people on board has been found and the remaining five are feared dead, officials said Tuesday.
The body was found nearly a mile off the coast in front of the Grand Melia resort late Tuesday morning, said Nino Correa, search and rescue director of the Emergency Management Agency. The victim has not yet been identified.
Crews are searching for the remaining passengers, and Police Chief Jose Figueroa Sancha told NotiUno radio station that officials found the fuselage of the UH-72 Lakota helicopter just north of the island.
It is unclear what caused the crash. The helicopter was headed for the neighboring island of Vieques when it disappeared late Monday just north of the coastal city of Rio Grande. One pilot had 10 years of experience and the other had at least six years, and neither reported any problems during the flight, said National Guard Gen. Antonio Vicens.
"The communication disappeared," he said.
Two of the passengers are prosecutors with the local justice department and the other four are officials with the National Guard, three of them crew members, said U.S. Coast Guard spokesman Ricardo Castrodad.
They were identified as Col. Victor Torres Rodriguez, who was second in command of the Puerto Rico National Guard, pilots Hector Ramirez and Carlos Acevedo, and Sgt. Jose Omar Sostre.
The prosecutors, Francisco Mujica de Leon and Mario Torres Marin, worked for the division of organized crimes, said Justice Secretary Guillermo Somoza, adding that he has known both of them for more than seven years. Torres is president of the Association of Prosecutors.
"It is an extremely sad, difficult and painful day," Somoza said. "They were extremely dedicated prosecutors who went the extra mile."
The helicopter was flying at about 400 feet and was fairly new, having been bought in May 2009, Vicens said.
It apparently changed its route, but it is unclear why.
Two other helicopters on the same mission did not have any problems but reported heavy rain, said National Guard spokesman Maj. Paul Dahlen.
The officials were traveling to Vieques to help serve 43 arrest warrants after a seven-month investigation into drug dealers on an island popular with tourists. Several housewives were among the suspects, according to justice spokesman Fidel Rodriguez.
The group is suspected of earning more than $2 million a year, he said.
Among the officials involved in the raid were 36 members of the U.S. National Guard, which has been helping Puerto Rican police battle the island's rising crime.
The U.S. Caribbean territory of 4 million people has registered its third-worst year for homicides, with more than 920 people reported killed this year. A record 995 people were killed in 1994.
"These accidents remind us of the sacrifice that these public servants carry on their shoulders day to day," Gov. Luis Fortuno said in a statement.
He declared seven days of mourning and ordered all flags to fly at half-staff.