Unlikely Maine toddler Ayla Reynolds is alive, police say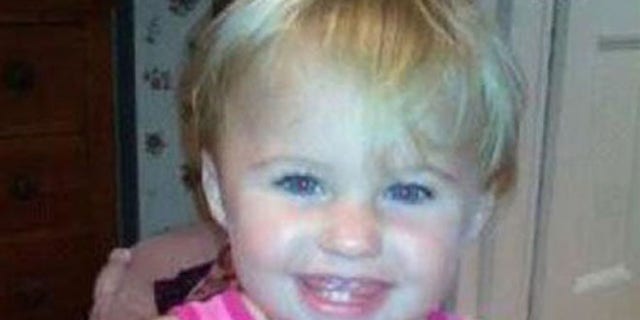 NEWYou can now listen to Fox News articles!
WATERVILLE, Maine – Law enforcement officials said Thursday for the first time that they believe a toddler who disappeared in the days leading up to Christmas is no longer alive.
Officials pressing for more information about Ayla Reynolds' whereabouts also announced at the news conference that a $30,000 reward for information on the case will expire June 30.
Steve McCausland, spokesman for the Maine Department of Public Safety, said investigators remain determined to solve the mystery of Ayla's disappearance.
"It has been 166 days since she was reported missing from her home in Waterville, and the work and the investigation goes on. There will be more searches, more dives and more interviews. And we are in this for the long haul. This case will never close until Ayla is found," McCausland told reporters.
Before the news conference, detectives called Ayla's parents to deliver the somber news that they no longer believe she'll be found alive.
Ayla was 20 months old when she was reported missing on Dec. 17 from her father's home in Waterville. The toddler had last been seen wearing polka dot pajamas with the words "Daddy's Princess" on them. She had a cast on her broken left arm.
Her father, Justin DiPietro, told police he thinks Ayla was abducted, but police say there's no evidence of that.
State police confirmed that Ayla's blood was found in the home and said the three adults in the house on the night Ayla disappeared know more than they're telling police.
Police repeated that assertion on Thursday when asked about the father. "We believe he knows more than he's told us," McCausland said.
Neither DiPietro nor a lawyer hired by members of his family returned a call.
There have been no arrests.
After Ayla was reported missing, dozens of game wardens, FBI agents and local and state police officers participated in the search in this central Maine city of 16,000 residents about 20 miles north of the state capital, Augusta.
Police checked trash bins and FBI agents knocked on doors. Officials even went so far as to drain a stream so wardens could get a better look.
Recently, divers searched the Kennebec River and retrieved some items. Investigators declined comment on those items Thursday.
Ayla had been placed in her father's care while her mother, Trista Reynolds, checked herself into a 10-day rehabilitation program.
Reynolds said previously that she'd tried to remain positive but she acknowledged losing faith that Ayla would be returned home.
"What's really on my mind on a daily basis is I'm wondering every day whether my daughter is dead or alive. That's what I want to know. Is she alive, or is she dead?" she told The Associated Press in April.
McCausland said police have received more than 1,000 tips and said people shouldn't expect it to be solved overnight. "This isn't `CSI' where everything is solved in 60 minutes," he said.