Under Armour, faltering, cuts its outlook and shares plunge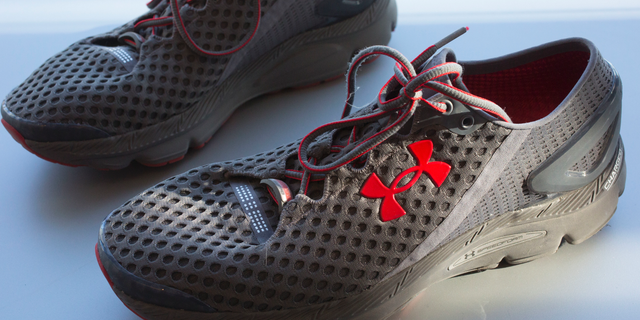 NEWYou can now listen to Fox News articles!
BALTIMORE – Under Armour has lost its momentum. It posted lower revenue and cut its outlook again Tuesday, which sent its shares down nearly 24 percent.
The sports apparel company had previously grown phenomenally, and was mentioned in the same breath with industry titans like Nike and Adidas. But it has since floundered, its shares falling more than 85 percent since September 2015. The company had said earlier this year that it would cut almost 2 percent of its workforce.
"I think we probably were a little braggish" about previous successes, CEO Kevin Plank said in a conference call Tuesday.
While the entire athletic wear sector has struggled due to a crowded marketplace and changing consumer habits, Under Armour's slide has been markedly worse.
Revenue in North America, the company's most important market, fell more than 12 percent in the third quarter. The Baltimore-based company lowered its annual per-share earnings forecast for the second time in three months to about half what it told investors to expect in August.
Neil Saunders, the managing director of GlobalData Retail, asked, "how did the one-time powerhouse of sports retail lose so much traction so quickly?" While there's been pressure on the entire sportswear sector, with U.S. consumers increasingly elusive, Saunders believes Under Armour is in an especially tough place.
"This is now about more than external factors; it demonstrates issues with the brand and its proposition," Saunders wrote. "Especially so since other brands and retailers, including Lululemon, have not posted such calamitous figures."
And Nike's first-quarter earnings last month were down about 24 percent from a year earlier. Still, its shares are up about 2.6 percent since they posted those results.
Plank cited a number of factors for the declining North American sales figures, including retail bankruptcies and store closures, declining productivity and changing fashion preferences.
"As we look to close out 2017, we do not expect these conditions to improve," Plank said. He added that the company expects to perform well internationally, but sees "a difficult environment in our North American wholesale business well into next year."
In addition to its North American issues, Plank said the company also had to deal with "complexities" that resulted from the company rapid growth.
Quarterly profit came to $54.2 million, or 12 cents per share. Earnings adjusted for restructuring costs was 22 cents per share, which was actually 3 cents better than Wall Street had expected, according to a survey by Zacks Investment Research. Under Armour had reported earnings of $128.2 million, or 29 cents per share, for the third quarter last year.
Yet revenue slumped 5 percent to $1.41 billion, short of Wall Street's expectations of $1.49 billion. Given that decline, Nomura analysts said Under Armour "is by definition not a growth company" and was shifting to a mature one.
The company now expects annual per-share earnings of between 18 and 20 cents per share.
Perhaps looking for a silver lining, industry analyst Randal Konik at Jefferies wrote, "The guidance is lowered so significantly that the company should be able to meet or beat its outlook." He said Jefferies analysts "very much believe in the brand, although the duration of the turn will take longer than we originally thought."
Gross margins at Under Armour, which excludes a $4 million impact from restructuring efforts announced this year, was 46.2 percent, a decrease of 130 basis points compared with the same period last year.
Its shares fell $3.89 to close Tuesday at $12.52.
________
Elements of this story were generated in part by Automated Insights using data from Zacks Investment Research. Access a Zacks stock report on UAA at https://www.zacks.com/ap/UAA