Tropical Storm Olivia fades but still packs rain and wind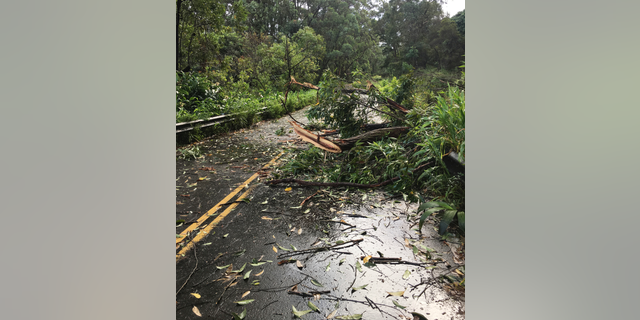 HONOLULU – A gradually weakening tropical storm hit Hawaii on Wednesday, dropping nearly 8 inches (20 centimeters) of rain on a part of Maui and lashing an airport with 51 mph (82 kph) wind gusts.
Lori-Lei Rawlins-Crivello, owner of one of the two gas stations on the small island of Molokai, said she was watching a nearby river rise. She said she'll send her workers home if water starts to go over the bridge near her Texaco service station.
"It will cut off a whole portion of the island from coming in and out of Kaunakakai town," she said.
Most stores in town were closed, she said. If the rain gets harder, she anticipates closing by the afternoon.
"We've had steady rainfall all day. It's starting to come down a little heavier now, along with some gusts of wind," she said.
The Central Pacific Hurricane Center said Olivia was about 40 miles (60 kilometers) west of Kahului on the island of Maui and 60 miles (95 kilometers) east of Honolulu on Oahu, the state's most heavily populated island. The storm had maximum sustained winds of 45 mph (75 kph).
The storm made landfall in the west Maui mountains before continuing to move further west.
Forecasters say 5 to 10 inches (12 to 25 centimeters) of rain could fall in the state, with some areas getting as much as 15 inches (38 centimeters).
A flash flood warning was issued for Molokai island and Maui. A wind gust of 51 mph (82 kph) was recorded at the airport on the island of Lanai.
The storm, which was a hurricane earlier in the week, slowly lost power as it neared the state.
Matthew Foster, a meteorologist with the hurricane center, said strong winds will likely continue on Maui through early afternoon and then start to die off. They'll pick up on Oahu around midday and last through the early evening.
Tropical storm warnings were canceled overnight for the Big Island and Kauai, but remain in place for Oahu, Maui and small islands surrounding Maui.
Schools, courts and government offices were closed in Maui County in preparation for the storm.
The Federal Emergency Management Agency sent emergency teams and supplies to Maui ahead of the storm. The National Guard has mobilized personnel and trucks to the east side of Maui.
Hawaiian Airlines cancelled flights by its commuter airline, Ohana by Hawaiian.
The owner of the only hardware store in the small town of Hana on the east side of Maui said he opened his store normally at 7 a.m. The store lost electricity about a half-hour later and needed to use backup generators, said Neil Hasegawa, owner of Hasegawa General Store.
Residents were bracing for the community with a population of 1,200 people to take the brunt of the storm, Hasegawa said. But he was feeling relieved the rain wasn't as hard as he feared.
"It's way better than I expected," he said. "We're not out of the woods yet ... I'm hoping —it seems like it's going to keep going north."
Hana is a popular day-trip destination for travelers staying in Maui's resort towns. But Hasegawa urged people who don't need to be in Hana to stay away because they could become trapped and take up limited shelter space.
People were mostly staying off the roads, Hasegawa said. The state Department of Transportation said crews cleared a landslide on Hana Highway and reported there were some fallen trees.
Public schools on the Big Island, Oahu and Kauai were open.
On Oahu, Nakoa Ching prepared for the storm with a hurricane kit, food and stoves and had friends with generators.
"We cleaned up all the loose material, put (it) in the sheds and stuff but we didn't go buy and invest in plywood or anything like that. It is what it is, you know," Ching said.
___
Associated Press writers Caleb Jones in Honolulu and Mark Thiessen in Anchorage, Alaska, contributed to this report.